L'Univers Cinématographique Marvel et les ascenseurs, une longue histoire d'amour (via Empire)… On écoute Charlie Cox nous parler de la collision des différentes séries Marvel Television/Netflix : « J'étais préoccupé par la façon dont ces mondes allaient être combinés. En terme de ton, ils sont tellement différents. Mais on sent que tous ces personnages ont été respectés et la série a son propre ton. Ils ont gardé l'aspect réaliste, mais en même temps, la série évolue dans un monde légèrement plus mythique. » Mike Colter ajoute : « Nous sommes réticents au départ. Personne ne veut vraiment travailler ensemble. Mais à la fin de la série, je pense que c'est un peu comme Very Bad Trip. 'Je ne veux plus jamais vous revoir !' » Sacrée référence !
Marvel's The Defenders suit les aventures de Daredevil, Jessica Jones, Luke Cage et Iron Fist, quatre super-héros ayant un objectif commun : sauver New York. Confrontés à leurs propres défis, ces loups solitaires décident d'unir leurs forces pour combattre le mal.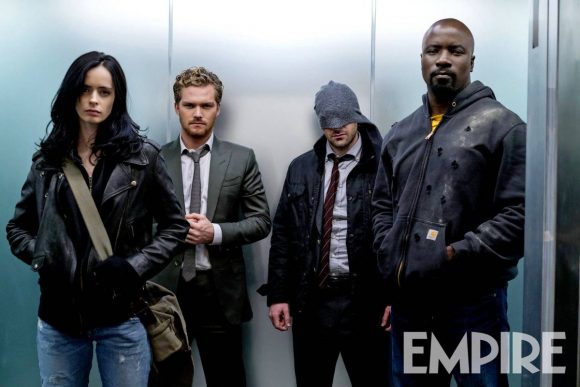 La série The Defenders sera mise en ligne le 18 août 2017 sur Netflix (VF et VOST), avec Charlie Cox (Matt Murdock/Daredevil), Krysten Ritter (Jessica Jones), Mike Colter (Luke Cage), Finn Jones (Daniel 'Danny' Rand/Iron Fist), Rosario Dawson (Claire Temple), Deborah Ann Woll (Karen Page), Elden Henson (Foggy Nelson), Elodie Yung (Elektra Natchios), Simone Missick (Misty Knight) et Sigourney Weaver (Alexandra).