Une première recrue importante pour la saison 3 de Legends of Tomorrow ! L'actrice iranienne Tala Ashe (American Odyssey, Smash) vient d'être choisie pour incarner Zari Adrianna Tomaz, alias Isis. Voici la description du personnage : « Femme musulmane américaine de l'an 2030, Zari vit dans un monde de contradictions. La technologie a apporté d'incroyables changements dans son futur – malheureusement, la nature humaine n'a pas suivi le rythme. Peur, préjugés et négligence envers la planète ont forcé Zari à devenir une hackeuse 'grey hat'. Nerd des ordinateurs avec une attitude ironique et combative, Zari est une femme qui vit une double vie et qui ne réalise pas qu'elle a un secret, des pouvoirs latents dérivés d'une source ancienne et mystique. » Dans les comics, Zari Adrianna Tomaz est une sorte de Shazam au féminin. Elle a même eu droit à sa propre série, The Secrets of Isis (1975-1976) ! Notons que la déesse égyptienne n'est pas nommément citée dans le communiqué de la chaîne The CW. On comprend facilement pourquoi (ISIS est l'acronyme d'Islamic State of Iraq and Syria).
Après la défaite d'Eobard Thawne et de l'infâme Legion of Doom, les Legends font face à une nouvelle menace créée par leurs actions à la fin de la dernière saison. En revisitant un moment de l'histoire auquel ils ont déjà participé, ils ont fracturé la ligne temporelle et créé des anachronismes – la dispersion d'un ensemble de gens, animaux et objets à travers le temps ! Notre équipe doit trouver un moyen de renvoyer tous les anachronismes dans leur ligne temporelle d'origine avant que le flux temporel ne s'effondre. Mais avant que nos Legends puissent repasser à l'action, Rip Hunter et son nouveau Time Bureau mettent en doute leurs méthodes…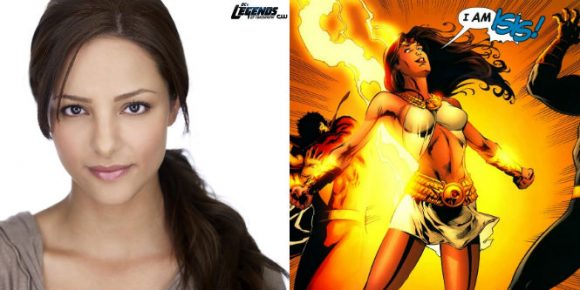 La série Legends of Tomorrow revient à la rentrée sur la chaîne The CW, avec Caity Lotz (Sara Lance/White Canary), Brandon Routh (Ray Palmer/The Atom), Dominic Purcell (Mick Rory/Heat Wave), Victor Garber (Professeur Martin Stein), Franz Drameh (Jefferson 'Jax' Jackson/Firestorm), Nick Zano (Nate Heywood/Citizen Steel), Maisie Richardson-Sellers (Amaya Jiwe/Vixen) et Arthur Darvill (Rip Hunter).