Après 'Rise of the Villains'/'Wrath of the Villains ' (saison 2) et 'Mad City'/'Heroes Rise' (saison 3), voici… 'Dawn of the Night' (via TVInsider) ! Tel est donc le titre de la première partie de la saison 4 de Gotham. Un titre qui joue avec les sonorités. C'est 'L'Aube de la Nuit', mais c'est aussi et surtout l'aube du Chevalier Noir ! Pour rappel, le panel de la Comic-Con dédié à la série aura lieu dans la nuit de samedi à dimanche (23h50-00h50).
L'origin story de Gotham se poursuit et, alors que le show entre dans sa quatrième saison, les enjeux sont plus élevés que jamais ! Avec la Cour des Hiboux décimée, les conséquences du virus Tetch qui paralysent la ville et tous les vilains (survivants) de Gotham luttant pour le pouvoir, Jim Gordon et le GCPD sont bien occupés. Et ce n'est que le début ! Quelle menace Ra's al Ghul fait-il peser et le Pingouin regagnera-t-il le titre de roi de Gotham ?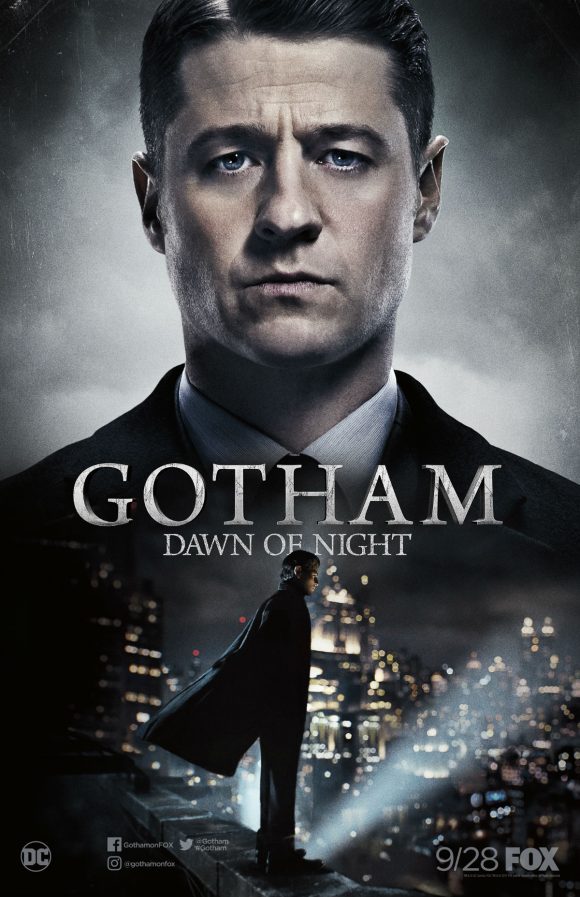 La série Gotham revient le 28 septembre 2017 sur la chaîne FOX, avec Ben McKenzie (James Gordon), Donal Logue (Harvey Bullock), David Mazouz (Bruce Wayne), Sean Pertwee (Alfred Pennyworth), Camren Bicondova (Selina Kyle/Catwoman), Robin Lord Taylor (Oswald Cobblepot/le Pingouin), Cory Michael Smith (Edward Nygma/le Sphinx) et Erin Richards (Barbara Kean).