Black Lightning a trouvé son grand méchant (via Deadline) ! Le rappeur Marvin 'Krondon' Jones III – vous connaissez ? – a été choisi pour incarner Tobias Whale, le chef de l'organisation criminelle The 100. Voici la description du personnage : « Le chef du gang le plus redouté de Freeland est un homme afro-américain atteint d'albinisme. Mais avant l'époque de Black Lightning, Tobias était un politicien qui s'est élevé dans le gouvernement local grâce à la corruption et des moyens illégaux. C'était jusqu'à ce qu'il soit battu par Alvin Pierce, le père de Jefferson. Enragé, Tobias l'a assassiné, ce qui l'a forcé à faire profil bas. C'est là qu'il a trouvé un endroit pour se reconstruire, devenant le chef violent et méthodique des 100… » La filmographie de Krondon ne compte qu'une apparition dans la série La loi selon Harry. Il s'agira donc de son premier grand rôle !
Jefferson Pierce est un homme qui lutte avec un secret. En tant que père de deux filles et principal d'un lycée privé sous contrat qui sert également de refuge pour les jeunes d'un quartier de la Nouvelle-Orléans submergé par la violence des gangs, il est un héros pour sa communauté. Neuf ans plus tôt, Pierce était un héros d'un genre différent. Doté du pouvoir surhumain d'exploiter et de contrôler l'électricité, il a utilisé ces pouvoirs pour garder sa ville natale en sécurité en devenant le justicier masqué Black Lightning. Presque une décennie plus tard, le combat de Pierce est depuis longtemps derrière lui… du moins, le pensait-il. Mais avec le crime et la corruption qui se répand comme une traînée de poudre et ceux qui lui sont proches à la croisée des chemins, Black Lightning revient – pour sauver non seulement sa famille, mais aussi l'âme de sa communauté [lire le synopsis complet].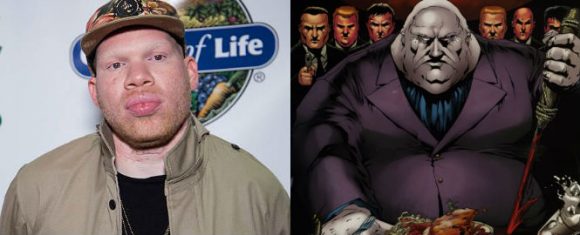 La Black Lightning sera diffusée en 2018 sur la chaîne The CW, avec Cress Williams (Jefferson Pierce/Black Lightning), Christine Adams (Lynn), Nafessa Williams (Anissa Pierce/Thunder), China Anne McClain (Jennifer Pierce/Lightning), James Remar (Peter Gambi) et Damon Gupton (Inspecteur Henderson).