Une poignée d'heures après l'annonce du projet Metropolis… Le premier poster de la série Krypton débarque sur Terre (via TVInsider) ! Le symbole de la Maison El est plus que jamais mis en avant avec, au centre, Seg-El, le grand-père de Superman. En bonus, voici les titres des huit premiers épisodes (sur dix) : 'Pilot', 'House of El', 'The Rankless Initiative', 'The Word of Rao', 'House of Zod', 'Civil Wars', 'Transformation' et 'Savage Night'…
Deux générations avant la destruction de la planète natale de Superman, Krypton suit Seg-El, le grand-père du légendaire Homme d'Acier – dont la Maison El a été ostracisée et couverte de honte. Alors que la confusion règne à la tête de Krypton, Seg-El rencontre le voyageur temporel terrien Adam Strange qui l'avertit que le temps est compté pour sauver son monde bien-aimé du chaos. Se battant pour racheter l'honneur de sa famille et protéger ceux qu'il aime, Seg fait également face à un conflit de vie ou de mort – sauver sa planète natale ou la laisser être détruite afin d'assurer la destinée de son futur petit-fils.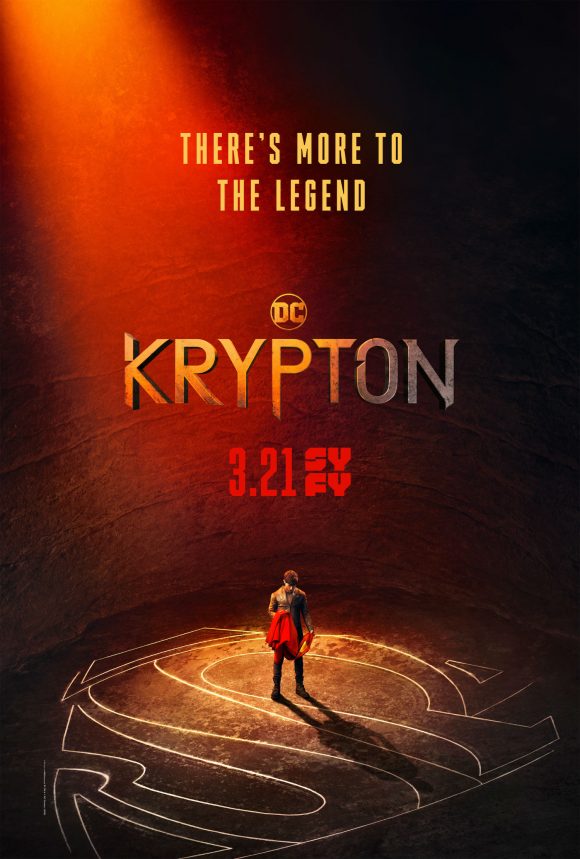 The legacy of #Superman is born on #Krypton.

Witness the beginning, 3.21 on @SYFY. pic.twitter.com/DX4228yMcW

— Krypton (@KryptonSYFY) 11 janvier 2018
La série Krypton sera diffusée à partir du 21 mars 2018 sur la chaîne Syfy, avec Cameron Cuffe (Seg-El), Georgina Campbell (Lyta Zod), Ian McElhinney (Val-El), Elliot Cowan (Daron Vex), Ann Ogbomo (Primus Alura Zod), Rasmus Hardiker (Kem), Wallis Day (Nyssa Vex) et Aaron Pierre (Dev-Em).