Il semblerait que ce soit le début d'une tradition… L'année dernière, Ben McKenzie est passé pour la première fois derrière une caméra pour réaliser l'épisode 16 de la saison 3. Or, un an plus tard, l'interprète de James Gordon retrouve la casquette de réalisateur pour réaliser l'épisode 16 de la saison 4 ! Personnellement, je suis en deuil depuis que Sofia Falcone s'est pris une balle dans la tête. C'était mon personnage nouveau préféré de la saison ! Mais bon, d'après Glenn Talbot et Butch Gilzean, il est possible de s'en remettre. Et il faut bien laisseenr de la place à Jérôme, qui commence à sortir de sa chrysalide…
Gotham – Saison 4 – Episode 16 – 'One Of My Three Soups' : Le 'meilleur' d'Arkham donnent du fil à retordre à Gordon et Bullock, alors qu'ils planifient un plan pour s'échapper de l'asile. Pendant ce temps, Bruce élabore sa propre stratégie pour contrecarrer leurs plans. De plus, Barbara reçoit une offre qu'elle ne peut pas refuser.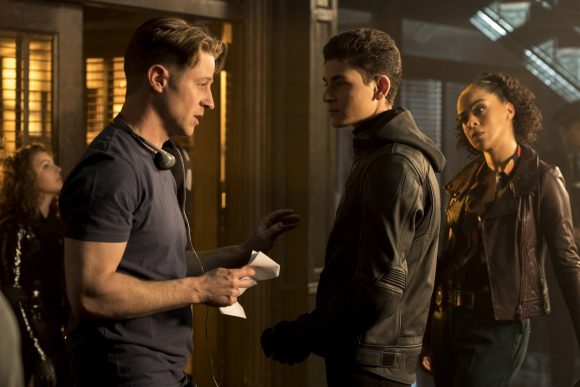 ————————————————–
Audience US : La croissance par la soupe a ses limites… Hier soir, l'épisode 'One Of My Three Soups' a été suivi par 2.39 millions de téléspectateurs (contre 2.47 millions la semaine dernière). C'est la plus mauvaise audience de l'histoire de la série (ancien record : 2.41 millions). Sur la cible des 18-49 ans, Gotham garde néanmoins le cap avec un taux de 0.7% (inchangé) [chiffres définitifs].
————————————————–
Gotham – Saison 4 – Episode 17 – 'Mandatory Brunch Meeting' : Gordon et Bullock tentent de garder une longueur d'avance alors que Jérôme se rapproche de sa nouvelle cible. Pendant ce temps, Nygma organise un jeu d'énigmes dans les Narrows et affronte son adversaire le plus coriace en la personne de Lee Thompkins, et le Pingouin va voir Butch avec une proposition.
La série Gotham est diffusée chaque jeudi sur la chaîne FOX, avec Ben McKenzie (James Gordon), Donal Logue (Harvey Bullock), David Mazouz (Bruce Wayne), Sean Pertwee (Alfred Pennyworth), Camren Bicondova (Selina Kyle/Catwoman), Robin Lord Taylor (Oswald Cobblepot/le Pingouin), Cory Michael Smith (Edward Nygma/le Sphinx) et Erin Richards (Barbara Kean).