Aujourd'hui, le professeur Mon-El enseigne quelques tours de cape à l'élève Kara Danvers ; et Myr'nn nous rappelle que la maladie d'Alzheimer peut avoir de graves conséquences sur l'entourage familial et professionnel. Qu'avez-vous pensé de cet épisode ? Et du nouveau costume de Mon-El, plus fidèle aux comics ? A vos claviers ! PS : si vous aimez Supergirl, il y a une autre série à base de voyages dans le temps, de Worldkillers et de Brainiac. Tout ça pour dire que Krypton, c'est plutôt pas mal pour peu que l'on s'intéresse à l'univers de Superman. En plus, il n'y a que dix épisodes !
Supergirl – Saison 3 – Episode 15 – 'In Search of Lost Time' : Quand Myr'nn provoque involontairement des troubles psychiques au DEO, Supergirl doit travailler avec J'onn pour contenir le chaos qui en résulte. Pendant ce temps, Mon-El commence à entraîner Kara pour combattre les Worldkillers avec des techniques qu'il a appris dans le futur.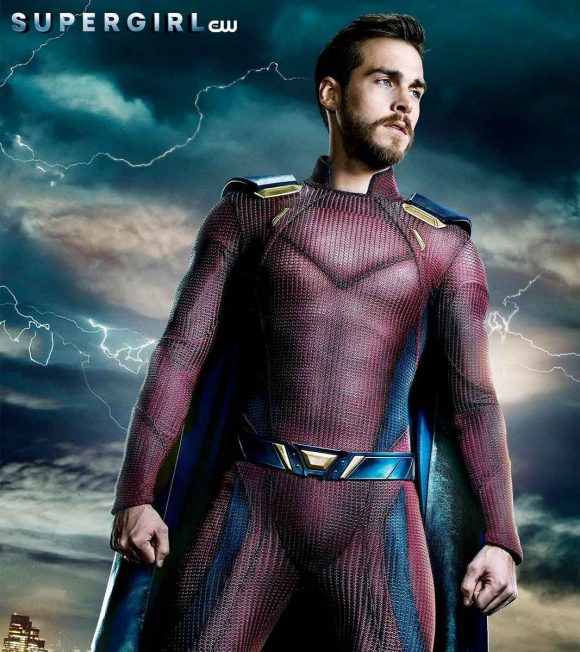 ————————————————–
Audience US : Supergirl en chute libre… Hier soir, l'épisode 'In Search of Lost Time' a rassemblé 1.38 million de téléspectateurs (contre 1.91 million avant la pause). C'est de loin la plus mauvaise audience de l'histoire de la série (ancien record : 1.75 million). Sur la cible des 18-49 ans, le show termine la soirée avec un taux inédit de 0.4% (en baisse de 0.1 point) [chiffres définitifs].
————————————————–
Supergirl – Saison 3 – Episode 16 – 'Of Two Minds' : Supergirl et Imra ont des idées différentes sur la façon d'arrêter le troisième Worldkiller, Pestilence. Cependant, lorsque Alex et Winn sont sérieusement blessés par Pestilence, Supergirl et Imra font équipe pour arrêter la destruction.
La série Supergirl est diffusée chaque lundi sur la chaîne The CW, avec Melissa Benoist (Kara Danvers/Supergirl), Chyler Leigh (Alex Danvers), Jeremy Jordan (Winslow 'Winn' Schott), Mehcad Brooks (James 'Jimmy' Olsen/Guardian), David Harewood (Hank Henshaw/Martian Manhunter), Chris Wood (Mon-El), Katie McGrath (Lena Luthor) et Odette Annable (Reign).