Ce n'est pas demain qu'une série Marvel Television sera annulée après une seule saison ! (Sauf Inhumans, faut pas pousser.) Cloak & Dagger a donc été renouvelée par la chaîne Freeform pour une saison 2 de dix épisodes qui sera diffusée au printemps 2019. C'est la principale information du panel de cette nuit. Il y a tout de même un poster, signé Mike McKone et Jesus Aburtov, qui donne un gros indice sur l'orientation future de la série. En effet, 'mayhem' est le mot anglais pour 'grabuge, mais c'est aussi l'identité super-héroïque de [Brigid O'Reilly], dont le pouvoir est d'exsuder un gaz verdâtre empoisonné. Et comme l'illustre le poster ci-dessous, elle possède également des griffes acérées…
Tandy Bowen et Tyrone Johnson, deux adolescents issus de milieux très différents, se retrouvent accablés et éveillés par l'acquisition de super-pouvoirs mystérieusement liés. Tandy peut émettre des lames de lumière et Tyrone a la capacité d'engloutir les autres dans l'obscurité. Ils apprennent vite qu'ils sont plus forts ensemble que séparés, mais leurs sentiments l'un pour l'autre rendent le monde plus compliqué qu'il ne l'est déjà.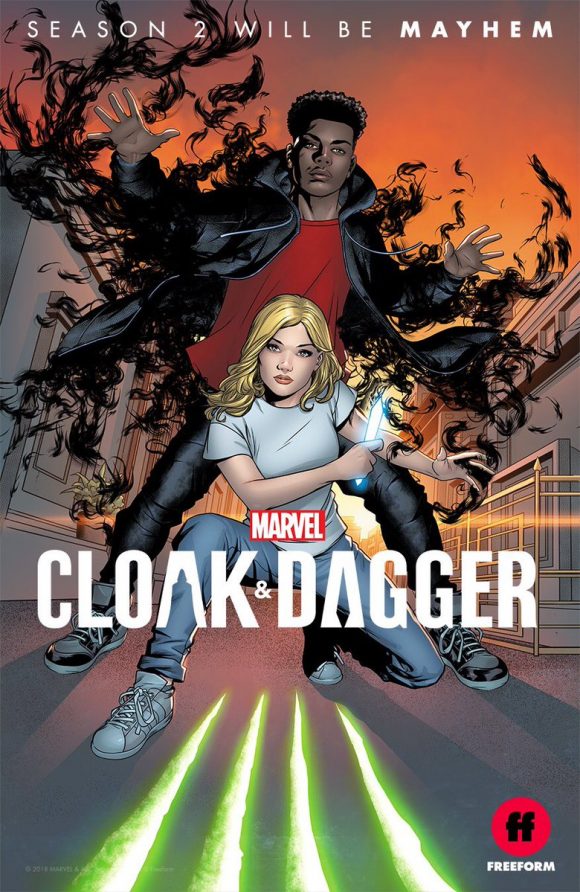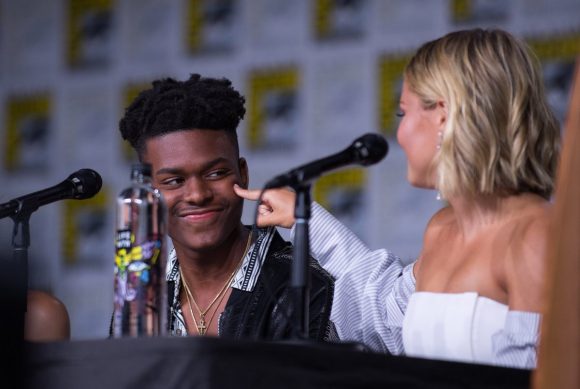 Packed house. Surprise Season 2 Announcement. What a time, #SDCC. #CloakAndDaggerSDCC #MarvelSDCC pic.twitter.com/XeK4hu0K1C

— Cloak & Dagger (@CloakAndDagger) 22 juillet 2018
Getting a #CloakAndDagger Season 2 chant going! Are you listening @FreeformTV? #SDCC2018 pic.twitter.com/YqbcZ169sW

— Fangirlish (@fangirlish) 21 juillet 2018
Here's the official announcement at the #CloakAndDagger panel that the show is returning fo a Season 2! #SDCC2018 pic.twitter.com/hdVAhZ4M1q

— Fangirlish (@fangirlish) 21 juillet 2018
La série Cloak & Dagger est diffusée chaque jeudi sur la chaîne Freeform, avec Olivia Holt (Tandy Bowen/l'Épée), Aubrey Joseph (Tyrone Johnson/la Cape), Andrea Roth (Melissa Bowen), Gloria Reuben (Adina Johnson), Miles Mussenden (Otis Johnson), Emma Lahana (Inspectrice Brigid O'Reilly), J.D. Evermore (Inspecteur Connors) et Carl Lundstedt (Liam).