La mort de Superman – projeté cette nuit en avant-première mondiale à la Comic-Con de San Diego – sort en France le 22 août 2018 en DVD, édition SteelBook et édition limitée avec figurine… Et après ? Quels seront les trois prochains 'DC Universe Animated Original Movies' ? Comme prévu, l'année 2019 débutera avec Reign of the Supermen, la suite de La mort de Superman. Au printemps, Justice League vs. The Fatal Five proposera une histoire inédite sur une équipe de super-vilains oubliée, les Fatal Picards, Fatal Five (Tharok, Emerald Empress, Validus, Mano et The Persuader). Ces criminels sont des adversaires classiques de la Légion des Super-Héros.
Viendra ensuite Batman : Hush, la déjà très attendue adaptation de Batman : Silence, qui viendra compléter notre collection des adaptations des plus grands arcs narratifs du Chevalier Noir. Et… ce n'est pas trois, mais bien quatre longs métrages animés qui sortiront en 2019 ! Pour coller à l'actualité de Wonder Woman 1984, Warner Bros. Home Entertainment proposera un film intitulé Wonder Woman : Bloodlines, à l'histoire inédite. C'est ce qui s'appelle un programme équilibré, avec un Batman qui laisse respirer ses coéquipiers. Quel est le film que vous attendez-vous le plus ?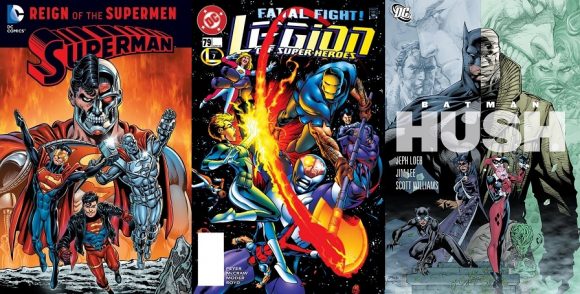 Le règne des Supermen : Alors que Superman vient d'être abattu des mains de Doomsday, les prétendants au titre se pressent et tentent leur chance pour incarner le super-héros le plus populaire de Metropolis. Apparaissent alors 4 nouveaux super-héros prétendant être la réincarnation de Superman: le cyborg, Superman mi-homme mi-machine, Superboy, un clone ado mi humain mi kryptnonien, Steel, un ingénieur sauvé par Superman, et l'Eradicator, apparemment le dernier fils de Krypton…
Batman – Silence : Batman se retrouve assailli par tous ses ennemis, lorsqu'un mystérieux personnage qui dissimule son visage sous des bandelettes apparaît. Son nom ? Silence. Son but ? Harceler le justicier jusqu'à lui faire perdre raison. Catwoman saura-t-elle lui apporter l'aide et le réconfort dont il a cruellement besoin ?