Et la première recrue de la saison 4 de Supergirl se nomme… Sam Witwer (via EntertainmentWeekly) ! L'interprète de Davis Bloome dans Smallville et de Dark Maul dans Star Wars : The Clone Wars a été choisi pour incarner Ben, alias l'Agent Liberty : « L'Agent Liberty est le fondateur et la figure de proue des Enfants de la Liberté – un groupe de haine qui soutient un ordre mondial qui donne la priorité aux humains. Impitoyable et terrifiant, la chose la plus effrayante à propos de l'Agent Liberty pourrait être à quel point il peut facilement vous convaincre qu'il a raison. C'est un orateur brillant qui a l'apparence d'un bon père de famille. » Il s'agit d'un rôle régulier. Précisons que dans les comics, Benjamin Lockwood est plus un agent gouvernemental désabusé qu'un super-vilain en devenir. Pour preuve, il a (brièvement) été membre de la Justice League ! Le créateur du personnage, Dan Jurgens, n'est d'ailleurs pas très enthousiaste à l'idée de voir sa création dénaturée…
La saison 3 a vu Supergirl arrêter Reign et la menace que faisaient peser les autres Worldkillers sur l'humanité et notre planète. En cours de route, Kara a été choquée de découvrir sa mère Alura, vivante, dans une Argo City qui a survécu à la destruction de Krypton. En se reconnectant avec son passé, Kara a réalisé que son vrai foyer est maintenant sur Terre, où de grands changements sont en train de se produire pour elle et pour tous ses amis à National City et aussi, il semblerait, pour un double en Russie ! La saison 4 s'annonce pleine de surprises, d'action, d'aventures et de grandes révélations pour Supergirl, Alex, James, J'onn, Lena et Brainy.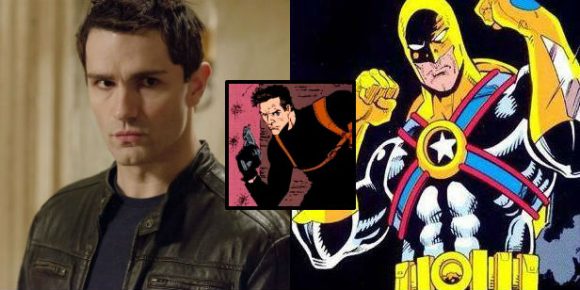 Agent Liberty was not, and is not, a whack job. But, as a TV writer, if that's all you've got, well… congratulations on your discovery of one dimensional writing.

— Dan Jurgens (@thedanjurgens) 17 juillet 2018
La série Supergirl revient le 14 octobre 2018 sur la chaîne The CW, avec Melissa Benoist (Kara Danvers/Supergirl), Chyler Leigh (Alex Danvers), Jeremy Jordan (Winslow 'Winn' Schott), Mehcad Brooks (James 'Jimmy' Olsen/Guardian), David Harewood (Hank Henshaw/Martian Manhunter), Katie McGrath (Lena Luthor) et Jesse Rath (Querl Dox/Brainiac 5).