Tiens, un poster super-héroïque de la chaîne The CW qui sort de l'ordinaire ! Après The Flash et Arrow, c'est donc au tour de Black Lightning de s'afficher, en reprenant les codes visuels de la Blaxploitation. Aux dernières nouvelles, la saison 2 comptera 16 épisodes contre 13 épisodes pour la saison 1. Autrement dit, nous serons devant une sorte de seconde partie de la saison 1. Tobias Whale sera-t-il assez endurant pour survivre jusqu'au bout (29 épisodes en tout !) ? Mystère…
Jefferson Pierce a fait son choix : il a raccroché le costume et son identité secrète il y a des années. Mais avec le crime et la corruption qui se répandent comme une traînée de poudre, et ceux dont il se soucie dans le collimateur du gang local menaçant The One Hundred, il doit redevenir Black Lightning pour sauver non seulement sa famille, mais aussi l'âme de sa communauté.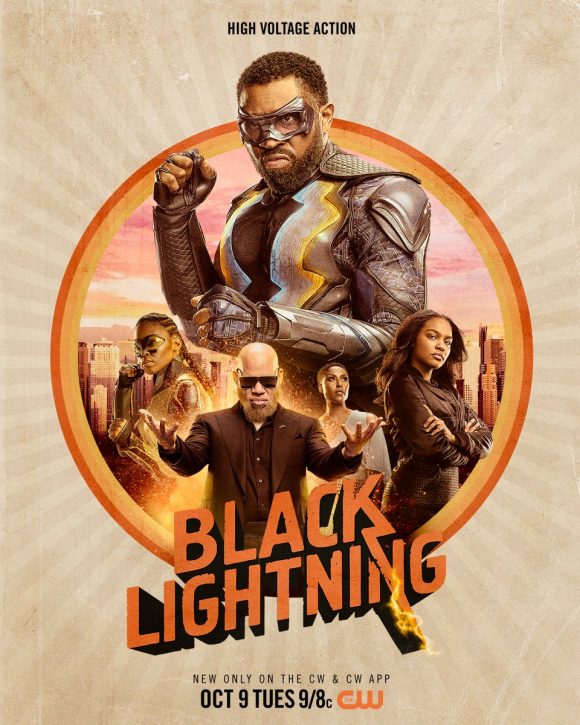 La série Black Lightning revient le 9 octobre 2018 sur la chaîne The CW, avec Cress Williams (Jefferson Pierce/Black Lightning), Christine Adams (Lynn Pierce), Nafessa Williams (Anissa Pierce/Thunder), China Anne McClain (Jennifer Pierce/Lightning), James Remar (Peter Gambi), Damon Gupton (Inspecteur William Henderson) et Marvin 'Krondon' Jones III (Tobias Whale).