Surprenant poster que celui de la saison 4 de Supergirl, où Kara Zor-El est dépeinte au milieu des flammes… qui émanent de ses propres poings. La Dernière Fille de Krypton a beau être « une force contre la peur », elle risque d'être poussée à bout par ses nouveaux ennemis : de simples humains (les Enfants de la Liberté) et… elle-même (Red Daughter) ? Bref, notre collection de posters est presque complète, il ne manque plus que celui de Legends of Tomorrow !
La saison 3 a vu Supergirl arrêter Reign et la menace que faisaient peser les autres Worldkillers sur l'humanité et notre planète. En cours de route, Kara a été choquée de découvrir sa mère Alura, vivante, dans une Argo City qui a survécu à la destruction de Krypton. En se reconnectant avec son passé, Kara a réalisé que son vrai foyer est maintenant sur Terre, où de grands changements sont en train de se produire pour elle et pour tous ses amis à National City et aussi, il semblerait, pour un double en Russie ! La saison 4 s'annonce pleine de surprises, d'action, d'aventures et de grandes révélations pour Supergirl, Alex, James, J'onn, Lena et Brainy.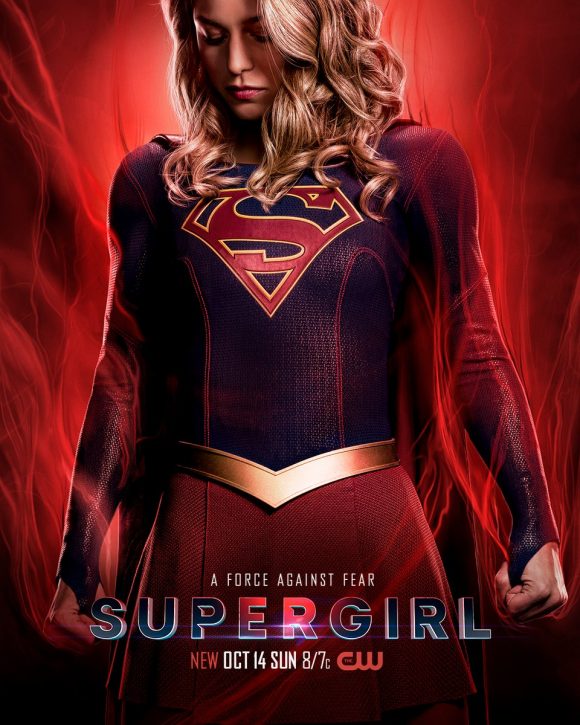 La série Supergirl revient le 14 octobre 2018 sur la chaîne The CW, avec Melissa Benoist (Kara Danvers/Supergirl), Chyler Leigh (Alex Danvers), Jeremy Jordan (Winslow 'Winn' Schott), Mehcad Brooks (James 'Jimmy' Olsen/Guardian), David Harewood (Hank Henshaw/Martian Manhunter), Katie McGrath (Lena Luthor) et Jesse Rath (Querl Dox/Brainiac 5).