Un pas en avant, deux pas en arrière… Annoncée depuis le début comme indépendante de Gotham – et ce malgré l'implication des deux tête pensantes de la série, Bruno Heller et Danny Cannon -, Pennyworth se déroule désormais dans le même univers ! Dixit Cannon lors du panel de la Comic-Con (et même quelques heures plut tôt) : « Je dirais oui. ». Sa réponse paraît tellement évasive qu'on peut se demander si c'est vraiment le cas et s'il ne s'agit pas de créer un peu de buzz à moindre frais. Après tout, Gotham n'est plus diffusée et Pennyworth se déroule près d'un demi-siècle avant, alors… Bref, nous verrons bien si Jack Bannon est crédible en jeune Sean Pertwee ! La présence de Pennyworth à San Diego ne s'est pas limitée à un panel, puisque le bien nommé Oxford Social Club a été transformé en club londonien branché des années 1960, avec torture en option. Que voulez-vous, on sait s'amuser au sein de la Raven Society ! En bonus, vous trouverez toutes les images du premier épisode, ainsi que quatre portraits promotionnels.
Alfred Pennyworth, le majordome légendaire de Bruce Wayne, ancien soldat des forces spéciales britanniques SAS âgé d'une vingtaine d'années, forme une société de sécurité privée et est amené à travailler avec un jeune milliardaire, Thomas Wayne, qui n'est pas encore le père de Bruce, dans le Londres des années 1960.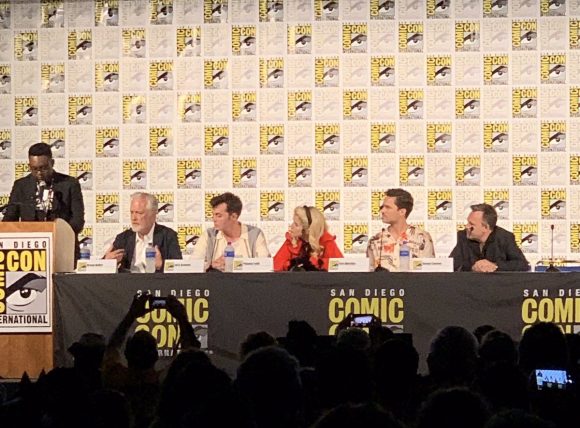 —————————————————–
La 'Pennyworth Experience' :
The cast of Pennyworth was taken back to a darker world. Experience the world of #Pennyworth for yourself at the Oxford Social Club today until 7pm here at #SDCC. #SDCC2019 pic.twitter.com/L5zFWbx75h

— PENNYWORTH (@PennyworthEpix) July 20, 2019
—————————————————–
Pennyworth – Saison 1 – Episode 1 – 'Pilot' : La série débute avec l'introduction d'Alfred Pennyworth, un jeune homme qui vient juste de quitter les forces spéciales britanniques et qui, ne sachant quoi faire, cherche à créer une entreprise de sécurité.
—————————————————–
La série Pennyworth sera diffusée à partir du 28 juillet 2019 sur la chaîne Epix, avec Jack Bannon (Alfred Pennyworth), Ben Aldridge (Thomas Wayne), Emma Paetz (Martha Kane), Ryan Fletcher (Dave Boy), Hainsley Lloyd Bennett (Bazza), Paloma Faith (Bet Sykes), Jason Flemyng (Lord Harwood) et Polly Walker (Peggy Sykes).