Scrogneugneu… Après Les Nouveaux Mutants et Black Widow, c'est maintenant au tour de la sortie de Wonder Woman 1984 d'être repoussée à cause de la pandémie de coronavirus. Mais il y a un twist ! Contrairement aux deux blockbusters précités, Warner Bros. Pictures a déjà fixé une nouvelle date pour sa production DC Comics : ce sera le 14 août aux Etats-Unis (au lieu du 5 juin). On peut donc raisonnablement s'attendre à une sortie française le 12 août. Ce déménagement forcé est bien sûr une triste décision pour le box office du film. En juin, Diana Prince avait tout l'été pour cartonner. En août, elle n'aura que quelques semaines avant la rentrée…
Après la Première guerre mondiale, direction les années 80 ! Cette fois, Wonder Woman doit affronter deux nouveaux ennemis, particulièrement redoutables : Max Lord et Cheetah.
We made Wonder Woman 1984 for the big screen and I believe in the power of cinema. In these terrible times, when theater owners are struggling as so many are, we are excited to re-date our film to August 14th 2020 in a theater near you, and pray for better times for all by then pic.twitter.com/85ykQ8x6NE

— Patty Jenkins (@PattyJenks) March 24, 2020
In these dark and scary times, I am looking forward to a brighter future ahead. Where we can share the power of cinema together again. Excited to redate our WW84 film to August 14, 2020. I hope everyone is safe. Sending my love to you all. ❤️ pic.twitter.com/nzPUM7uQ1n

— Gal Gadot (@GalGadot) March 24, 2020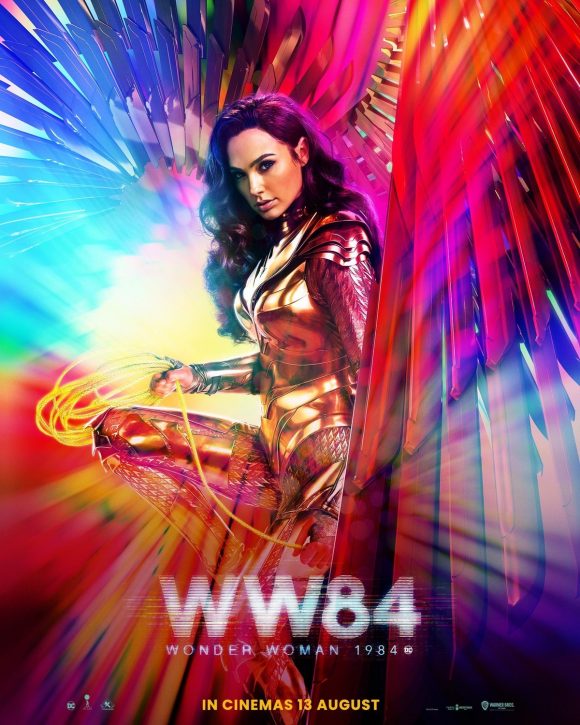 7 février 2020 : #BirdsOfPrey
14 août 2020 : #WonderWoman1984

6 mois d'attente entre les deux premiers blockbusters super-héroïques datés de l'année. Du jamais vu depuis fort longtemps…

— Les Toiles Héroïques (@ToilesHeroiques) March 24, 2020
Wonder Woman 1984 est réalisé par Patty Jenkins et sort aux Etats-Unis le 14 août 2020, avec Gal Gadot (Diana Prince/Wonder Woman), Chris Pine (Steve Trevor), Kristen Wiig (Barbara Minerva/Cheetah), Pedro Pascal (Maxwell Lord), Connie Nielsen (Hippolyte), Robin Wright (Antiope), Natasha Rothwell, Ravi Patel, Gabriella Wilde et Kristoffer Polaha.