Au début de l'épisode : ce serait triste de voir une Rita amnésique se perdre dans les couloirs du temps… A la fin de l'épisode : et si Rita était faite pour vivre dans le passé, elle qui n'a jamais trouvé sa place dans le présent ? Superbe introspection en amnésiland que ce '1917 Patrol'. Quelle série super-héroïque peut aujourd'hui se targuer de mélanger poésie, humour, absurde et émotions (avec une dose de Lady Gaga) ? Aucune, à l'exception de Doom Patrol ! Du coup, on se demande comment la Sisterhood of Dada est passée du côté obscur de la farce. Peut-être une confrontation trop violente avec le monde du dehors ? Alors que nous entamons la seconde partie de la saison, il semblerait que le fil rouge soit le suivant : chaque personnage est sur le point de perdre une partie de lui-même… et il se pourrait que ce soit pour le mieux ?
Doom Patrol – Saison 3 – Episode 6 – '1917 Patrol' : Plongée dans le temps, Rita tente de naviguer au sein du Bureau of Normalcy avec l'aide d'un groupe étrangement familier. Pendant ce temps, Jane donne à Kay son premier goût de liberté, tandis que Larry clôt un chapitre avec son fils.
————————————————–
Doom Patrol – Saison 3 – Episode 7 – 'Bird Patrol' : Vic demande de l'aide à un vieil ami pour un changement majeur dans sa vie, Cliff pousse ses habitudes en ligne trop loin et Jane se bat contre les « autres » pour Kay. Sentant un danger imminent, Madame Rouge tente de rallier le groupe très distrait.
﹡﹡﹡﹡﹡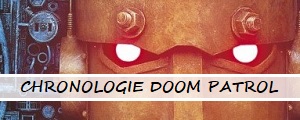 ﹡﹡﹡﹡﹡
La série Doom Patrol est diffusée chaque jeudi sur la plateforme HBO, avec Timothy Dalton (Dr Niles Caulder/The Chief), Brendan Fraser (Cliff Steele/Robotman), Matt Bomer (Larry Trainor/Negative Man), April Bowlby (Rita Farr/Elasti-Woman), Diane Guerrero (Crazy Jane) et Joivan Wade (Victor Stone/Cyborg).