Tiens, cette sphère métallique qui trône au milieu de l'exposition organisée par Akira ne vous rappelle pas quelque chose ? La production de Naomi a tout simplement recyclé la sphère de régénération utilisée par Jennifer Pierce dans la saison 4 de Black Lightning ! C'est sûr que niveau budget, Naomi fait avec les moyens du bord, une bonne partie de l'action se déroulant hors-champ. L'intérêt est donc ailleurs : suivre les aventures de nos jeunes détectives au sein d'une ville qui sert de refuge à une communauté d'extraterrestres perdus dans le multivers. Tout est maintenant plus clair, grâce aux incroyables capacités de déduction de notre héroïne à qui tout réussi. Et comme ses parents sont maintenant sur la même longueur d'onde, cela devrait avancer deux fois plus vite. C'est toujours aussi moyen… mais le personnage de Dee est sympathique et voir DC Comics faire de la publicité pour DC Comics dans une série DC Comics fait sourire !
Naomi – Saison 1 – Episode 3 – 'Zero to Sixty' : Naomi (Kaci Walfall) reçoit les conseils de Dee (Alexander Wraith) alors qu'elle apprend à exploiter ses pouvoirs, tout en jonglant avec sa vie quotidienne d'adolescente qui termine sa candidature à l'université. Et comme l'obsession de Naomi pour découvrir des réponses la pousse, elle et ses amis, à adopter un comportement dangereux, Zumbado (Cranston Johnson) demande l'aide d'un vieil ami pour l'aider à faire avancer ses plans.
————————————————–
| Episode | Titre | Date | Téléspectateurs | Taux |
| --- | --- | --- | --- | --- |
| 1×01 | Pilot | 11 janvier 2022 | 0.80 | 0.1 |
| 1×02 | Unidentified Flying Object | 18 janvier 2022 | 0.73 | 0.1 |
| 1×03 | Zero to Sixty | 25 janvier 2022 | 0.59 | 0.1 |
————————————————–
Naomi – Saison 1 – Episode 4 – 'Enigma' : Naomi (Kaci Walfall) en découvre plus sur son passé, mais elle doit accepter tous les secrets qui lui ont été cachés… et qui les a gardés. Et alors que l'adolescente nouvellement autonome poursuit sa formation avec Dee (Alexander Wraith) et trouve le courage d'affronter Zumbado (Cranston Johnson), elle doit équilibrer sa super-vie avec sa vie scolaire quand Annabelle (Mary-Charles Jones), Anthony (Will Meyers) et Jacob (Aidan Gemme) la poussent à faire campagne pour le poste de Président de Classe.
﹡﹡﹡﹡﹡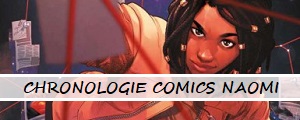 ﹡﹡﹡﹡﹡
La série Naomi est diffusée chaque mardi sur la chaîne The CW, avec Kaci Walfall (Naomi), Mary-Charles Jones (Annabelle), Cranston Johnson (Zumbado), Alexander Wraith (Dee), Daniel Puig (Nathan), Aidan Gemme (Jacob), Will Meyers (Anthony), Camila Moreno (Lourdes) et Mouzam Makkar (Jennifer).>