Succès oblige, la chaîne The CW chouchoute The Flash… Plus d'un mois avant le retour de la série (9 mars), voici la vraie bande annonce de la saison 8 ; le crossover 'Armageddon' n'ayant été qu'un prologue de luxe. Bart/Impulse (Jordan Fisher) et Nora/XS (Jessica Parker Kennedy) seront donc de la partie pour compliquer un peu plus la chronologie du show. Et le super-vilain Goldface (Damion Poitier) fera son grand retour. Mais le plus intéressant, c'est bien sûr la promesse d'un Barry Allen plus confiant et puissant, qui n'a plus besoin de se reposer toutes les cinq secondes sur la Team Flash pour vaincre ses ennemis !
The Flash – Saison 8 – Episode 6 – '?????' : Synopsis inconnu.
﹡﹡﹡﹡﹡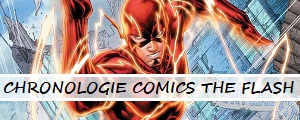 ﹡﹡﹡﹡﹡
La série The Flash revient le 9 mars 2022 sur la chaîne The CW, avec Grant Gustin (Barry Allen/The Flash), Candice Patton (Iris West-Allen), Danielle Panabaker (Caitlin Snow/Killer Frost), Jesse L. Martin (Joe West), Danielle Nicolet (Cecile Horton), Kayla Compton (Allegra Garcia) et Brandon McKnight (Chester P. Runk).