Une troisième salve d'acteurs pour la saison 2 des Anneaux de Pouvoir… et pour une fois, il y a une tête connue ! (Question : connaissiez-vous certains acteurs de la saison 1 ? A part Benjamin Walker, alias Gil-galad, je dois avouer que non.) Ciarán Hinds (Game of Thrones, Harry Potter et les reliques de la mort), Rory Kinnear (Penny Dreadful, Skyfall) et Tanya Moodie (Empire of Light, Motherland) ont donc rejoint la distribution de la série dans des rôles-mystères. Pour les fans de super-héros, Hinds a été la voix de Steppenwolf (Justice League) et a joué Roarke (Ghost Rider : L'esprit de vengeance). Et c'est bien évidemment le Jules César de la série Rome !
[Synopsis de la saison 1] La série d'Amazon Studios présente pour la toute première fois sur les écrans les légendes héroïques du légendaire Second Âge de l'histoire de la Terre du Milieu. Ce drame épique se déroule des milliers d'années avant les événements du Hobbit et du Seigneur des Anneaux de J.R.R. Tolkien, et ramène les téléspectateurs à une époque où de grandes puissances ont été forgées, où des royaumes ont basculé de la gloire à la ruine, où des héros improbables ont été testés, où l'espoir est suspendu par le plus fin des fils et où le plus grand méchant qui jaillit de la plume de Tolkien menace de couvrir le monde entier de ténèbres. Commençant à une époque de paix relative, la série suit un ensemble de personnages, à la fois familiers et nouveaux, alors qu'ils affrontent la réémergence tant redoutée du mal sur la Terre du Milieu. Des profondeurs les plus sombres des Monts Brumeux, aux forêts majestueuses de la capitale des elfes de Lindon, au royaume insulaire à couper le souffle de Númenor, jusqu'aux confins de la carte, ces royaumes et personnages se tailleront des héritages qui perdureront longtemps après qu'ils soient morts.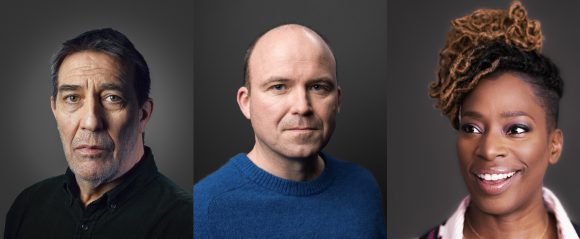 La série Le Seigneur des Anneaux : Les Anneaux de Pouvoir revient en 2024 sur Prime Video, avec Morfydd Clark (Galadriel), Robert Aramayo (Elrond), Lloyd Owen (Elendil), Nazanin Boniadi (Bronwyn), Ismael Cruz Córdova (Arondir), Markella Kavenagh (Elanor 'Nori' Brandyfoot), Daniel Weyman (l'Etranger), Owain Arthur (Durin IV) et Charlie Vickers (Sauron).