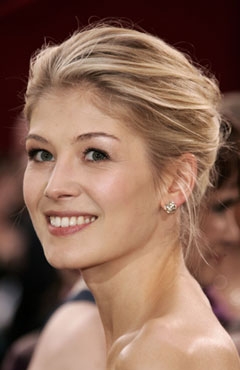 A force de parler d'elle, il y a bien un moment où nous allions finir par la caser !
Un temps envisagée
sous les traits de l'actrice
Hayley Atwell
(Peggy Carter dans
Captain America
), c'est finalement
Rosamund Pike
qui vient rejoindre le casting de
Wrath of the Titans
(
La Colère des Titans
), alias
Le Choc des Titans 2
. Révélée au monde en 2002 dans
Meurs un autre jour
, l'actrice jouera
Andromède
dans cette suite réalisée par
Jonathan Liebesman
(
Battle Los Angeles
). Successivement évoquée pour incarner
Emma Frost dans X-Men First Class
, puis très récemment pour
un rôle de méchante
dans le prochain
Superman
de Zack Snyder, Rosamund Pike rejoindra
Sam Worthington
et Liam Neeson dans ce film qui sortira au printemps 2012… Entre les dieux grecs et le dieu des superhéros, il fallait bien choisir !