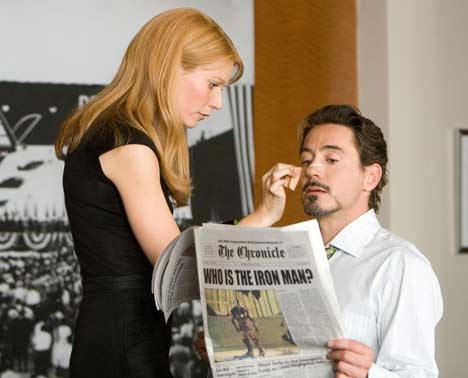 Tony Stark
pourrait-il survivre tout un film sans
Pepper Potts
, son assistante de charme ? Il est permis d'en douter, mais jusqu'à très récemment,
la participation de Gwyneth Paltrow au casting de The Avengers semblait à exclure
… Or, selon une source du site
DisFanReview
, l'actrice aurait été présente
pendant deux jours au Nouveau Mexique sur le tournage de The Avengers
, pour reprendre son rôle tenu dans
Iron Man
et
Iron Man 2
… Deux jours : c'est trop peu pour un rôle important, mais c'est déjà
largement assez pour faire plus qu'un cameo
! Encore une nouvelle star pour
The Avengers
. Ce n'est pas de refus, surtout quand l'on considère l'absence de présence féminine (la Veuve Noire et… c'est tout [MAJ : J'avais oublié Cobie Smulders… elle jouera bien sûr l'agent Maria Hill]). Autre ajout de charme qui est confirmé : l'actrice
Amanda Righetti
, connue des téléspectateurs français grâce à la série
The Mentalis
t.
Ses premiers pas dans le Marvel Cinematic Universe se feront dans le film Captain America
: elle y jouera une agent du SHIELD (donc au début et/ou à la fin du long métrage). Mais elle devrait aussi être au casting de
The Avengers
, toujours dans le même rôle, qui serait plus développé. Dès qu'une actrice est engagée pour jouer un personnage du SHIELD, les discussions vont bon train : pourrait-elle être
Sharon Carter,
le grand amour « moderne » de Steve Rogers ; serait-elle
Carol Danvers alias Miss Marvel
? Les spéculations des fans n'ont pas de limites !