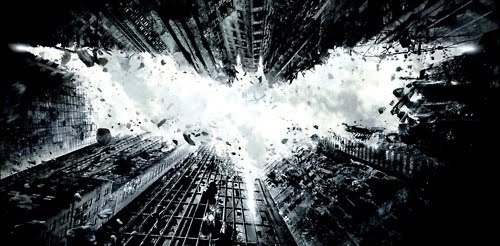 La tâche noire en bas à gauche, est-ce
Batman
(Christian Bale) ou
Catwoman (Anne Hathaway)
? Et la bouillie blanche qui fait des pompes dans une salle obscure : s'agit-il de
Bane (Tom Hardy)
ou du héros ? Et qui est cet accro à la spéléologie gravissant un puits ? Pourquoi le
Comissaire Gordon (Gary Oldman)
n'est-il fichu de parler plus fort pour que l'on comprenne ce qu'il dit ? Quelle est la couleur de la litière de Selina Kyle ? Place aux réponses avec
le teaser de The Dark Knight Rises
, qui a été mis en ligne officiellement aujourd'hui par la
Warner
(mais si jamais vous préférez la version pirate, on la trouve toujours sur le site !). Comme je le disais mercredi,
l'atmosphère dégagée par ce teaser fait froid dans le dos
. A quel point Gotham City est-elle livrée aux criminels ? Gordon serait-il au courant de l'identité secrète de Batman ?
Bane va-t-il tuer notre héros ? Tout est possible…
J'attends vos nombreux avis sur ce court teaser !
En attendant le
18 juillet 2012
, méditons ces paroles de Ra's al Ghul :
If you make yourself more than just a man. If you devout yourself to be ideal. And you become something else entirely. A legend Mr. Wayne… A LEGEND !