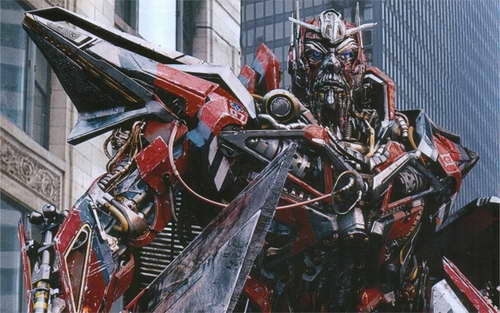 Mini-polémique autour de
Transformers 3
et de Michael Bay.
Le réalisateur a utilisé dans Transformers 3 quelques secondes d'un de ses précédents films, The Island
. Le passage incriminé est l'une des scènes d'action du film, la poursuite (traditionnelle) sur une autoroute, entre Decepticons et Autobots. Les images réutilisées de
The Island
se comptent en secondes, et sur les doigts de la main (voir la vidéo). Avec une dose d'effets spéciaux et de montage, elles s'intègrent parfaitement au film. Mais qu'importe :
Michael Bay est déjà accusé de recyclage
… alors qu'il avait une très bonne raison d'agir ainsi. Lors du tournage de cette scène, un très grave accident s'est produit, provoquant
l'hospitalisation et la paralysie d'une figurante
, Gabriela Cedillo. Sans doute par respect pour la victime, les images de cette séquence n'ont pas été utilisées. Il faut rajouter que Michael Bay n'est pas du genre à faire exploser son budget : 195 millions pour son dernier film, c'est encore moins que
Transformers 2
. Et quand on voit la qualité visuelle proposée, chaque dollars est dépensé avec soin, ce qui n'est pas toujours le cas des productions actuelles… Au vu du contexte, je ne vois alors vraiment pas où est le problème : au lieu de dépenser des millions pour refaire une scène, pourquoi ne pas utiliser trois secondes d'un de ses films ? D'autant plus que le procédé n'est pas caché. Ceux qui sont restés jusqu'au bout du générique de fin auront certainement vu la mention de
The Island
dans les crédits. Au passage, c'est un bon moyen de mettre sous les projecteurs ce film, le seul bide de Michael Bay !
Encore une polémique pour rien autour de Transformers : une de plus !