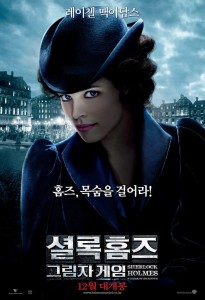 Le site Collider s'est rendu sur le tournage de Sherlock Holmes 2 – A Game of Shadows (Jeu d'Ombres) pour ensuite publier une liste de 20 choses à savoir sur le film… Traduction.
L'histoire commence environ six mois après les événements du premier long métrage.
L'histoire de Sherlock Holmes – A Game of Shadows est un complot que Moriarty a mis en branle bien avant que le film commence, Holmes arrivera donc lors de la phase terminale de ce plan, qui a déjà débuté, pour essayer de le contrecarrer.
Holmes suit la piste de Moriarty, en essayant de comprendre ce qu'il mijote, mais il y aura d'autres mystères plus petits sur sa route, qui s'ajoutent à un autre plus grand.
Il y a eu des discussions pour faire le film en 3D, mais il a été décidé que d'un point de vue pratique et créatif, cela ne fonctionnerait pas.
Dans un esprit d'improvisation, l'équipe de base, formée par Robert Downey Jr., Jude Law, Guy Ritchie et les producteurs, se réunissait chaque matin pour travailler les scènes de la journée. Même si les scènes étaient bonnes, ils essayaient de les améliorer au maximum.
Sur le premier film, ils avaient beaucoup d'idées qu'ils ne pouvaient pas incorporer, mais certaines de ces idées se retrouvent aujourd'hui dans la suite.
L'objectif de Ritchie était d'améliorer l'action, la relation entre Holmes et Watson, et l'importance de l'intrigue.
Le ton est légèrement plus large et plus inquiétant que le premier film. Moriarty et ses plans sont plus sombres que dans le précédent opus. La relation entre Holmes et Watson est encore une bromance.
Le producteur Lionel Wigram avait une idée directrice pour les trois premiers films de la franchise, une direction générale pour eux, et il dit qu'ils ont suivi cette idée directrice pour ce second film.
Le personnage de Noomi Rapace n'était pas encore totalement étoffé lorsqu'elle a été choisie, l'actrice a donc beaucoup participé à la construction de son rôle.
Le personnage de Rapace n'est pas très forte quand il s'agit de donner un coup de poing, mais elle est bagarreuse, une combattante de rue. Ils voulaient la rendre crédible eet réaliste, son approche du combat se rapproche d'une lutte pour la survie, plutôt que la domination de l'adversaire.
Vous n'avez pas besoin de voir le premier film pour comprendre le nouveau.
L'intrigue amène les personnages hors de l'Angleterre, à Paris, en Allemagne, et dans les Alpes suisses.
Jared Harris a décroché le rôle de Moriarty à la dernière minute. Le tournage a commencé une semaine ou dix jours après son engagement.
Il y a eu beaucoup de discussions sur qui devait jouer Moriarty. Mais il a été décidé que le personnage ne devait pas être éclipsé par le fait que son acteur soit une star.
Harris et Ritchie ont évoqué le fait qu'ils ne voulaient pas que Moriarty soit un méchant typique qui expose son plan lors d'un long discours à la fin du film, ce qui donne au gentil le temps d'arranger les choses. Moriarty n'énonce donc pas ce qu'il essaye de faire, et cela reste mystérieux tout au long du film.
Harris dit que Moriarty est tellement manipulateur qu'il n'a pas besoin de commettre de violences lui-même ou de tuer des gens, il peut obtenir qui il veut pour faire ce qu'il veut.
Le personnage de Noomi Rapace devient une sorte de partenaire pour Holmes et Watson. Elle est émotionnellement impliquée dans ce que les deux font, et ils ont un objectif commun.
Hans Zimmer est de retour pour la musique.
Ils ont discuté d'idées pour un troisième film, et s'ils sont assez chanceux pour en refaire un, ils le feront probablement. Mais ils n'ont pas encore de plans spécifiques.
Sherlock Holmes 2 – A Game of Shadows (Jeu d'Ombres) sort le 25 janvier 2012 en France (mais le 16 décembre aux Etats-Unis !). Nous y retrouverons Robert Downey Jr. (Sherlock Holmes), Jude Law (Docteur Watson), Jared Harris (Professeur Moriarty), Noomi Rapace (Sim), Stephen Fry (Mycroft), Gilles Lellouche, et Rachel McAdams (Irène Adler)…