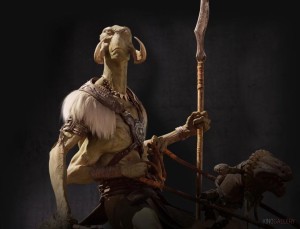 Interviewé par le site Bleeding Cool, le réalisateur de John Carter, Andrew Stanton, a révélé qu'il a acheté les droits des trois premiers livres du Cycle de Mars, la saga écrite par l'auteur américain Edgar Rice Burroughs (Tarzan). John Carter, le premier film, est l'adaptation du premier volume, La princesse de Mars. Les suivants s'intitulent Les dieux de Mars et Le seigneur de la guerre de Mars… Stanton souhaite même aller plus loin : « Mon souhait de fan est de faire les onze histoires [le Cycle de Mars compte onze volets] et d'en faire plus. » Pour que ce souhait se réalise, il faut d'abord que John Carter soit un succès financier. Avec une rumeur de budget à 250 millions de dollars, le long métrage se doit d'être un carton mondial, – des rumeurs évoquent même la somme astronomique de 700 millions de dollars pour qu'une suite soit mise en chantier ! – ce qui n'est pas encore gagné… Quoiqu'il advienne, la trilogie  John Carter existe déjà à l'état débauche dans l'esprit d'Andrew Stanton.
Dans une autre interview, le réalisateur explique les nombreux changements de titre du film : « Voici la vérité vraie. J'avais déjà changé le titre de La princesse de Mars en John Carter of Mars. Je n'aime pas faire une fixation sur ça, mais j'ai changé La princesse de Mars… car aucun garçon ne serait allé le voir. Et l'autre vérité, c'est qu'aucune fille n'irait voir John Carter of Mars. Donc j'ai dit « Je n'aime pas faire quoique ce soit par peur, je déteste faire les choses par peur, mais je ne peux pas ignorer cette vérité. » (…) C'est avant tout l'histoire d'un homme qui devient John Carter. Donc je ne déforme pas ce qu'est le film, c'est John Carter. » Tout s'éclaire. Bien sûr, les décisions marketing prennent parfois le pas sur l'aspect artistique, mais qu'importe le titre, du moment que le film est bon ! En bonus, un spot TV avec trois ou quatre secondes inédites.
Le film John Carter sort en France le 7 mars 2012, avec Taylor Kitsch (John Carter), Lynn Collins (Dejah Thoris), Willem Dafoe (Tars Tarkas), James Purefoy (Kantos Kan), Dominic West (Sab Than), Mark Strong (Matai Shang), Bryan Cranston (Colonel Powell), Daryl Sabara (Edgar Rice Burroughs), Ciaran Hinds (Tardos Mors), et Thomas Haden Church (Tal Hajus).