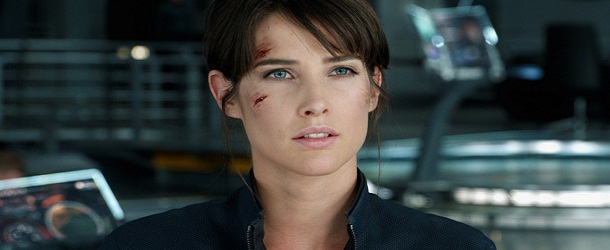 Pour revoir nos agents gouvernementaux préférés, nul besoin d'une série S.H.I.E.L.D. ou d'un film entièrement consacré à la célèbre agence d'espionnage… Captain America : The Winter Soldier fera très bien l'affaire ! Après Nick Fury (Samuel L. Jackson) et Black Widow (Scarlett Johansson), c'est au tour de Maria Hill de répondre présent ! Variety indique aujourd'hui que l'actrice Cobie Smulders a rejoint l'aventure. Qui sait, cette suite développera peut-être la rivalité déjà esquissée entre l'Agent Hill et son supérieur ? Et quid de l'Héliporteur ?
Présenté comme un thriller politique, Captain America : The Winter Soldier n'en oublie pas moins les super-méchants ! L'acteur Frank Grillo a décroché le rôle de Brock Rumlow alias Crossbones, ce mercenaire redoutable qui pourrait très bien avoir la peau de Steve Rogers… Le Monsieur a de la chance : la semaine dernière, Grillo a twitté qu'il venait de passer les auditions pour ce personnage, alors que rien n'était officiel. Pas sûr que Marvel Studios appréciera une telle « liberté » au moment du tournage !
Captain America 2 – The Winter Soldier sort le 4 avril 2014 aux États-Unis avec Chris Evans (Steve Rogers/Captain America), Sebastian Stan (Bucky Barnes/le Soldat de l'Hiver), Scarlett Johansson (Natasha Romanoff/Black Widow), Anthony Mackie (Sam Wilson/Le Faucon), Frank Grillo (Brock Rumlow/Crossbones), Samuel L. Jackson (Nick Fury) et Cobie Smulders (Maria Hill).