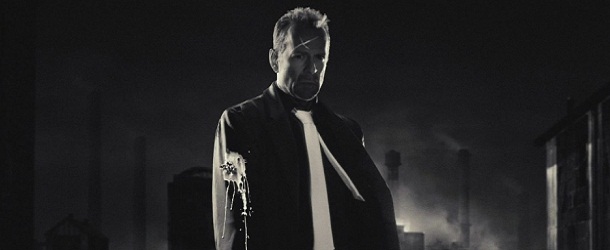 En principe, l'Inspecteur John Hartigan n'a pas grand chose à voir avec l'histoire de Sin City : A Dame to Kill For (J'ai tué pour elle). Seulement, on ne se prive pas comme ça de Bruce Willis ! Surtout quand le créateur du comic original, Frank Miller, est derrière la caméra et qu'il peut donner sa bénédiction. Robert Rodriguez l'a donc confirmé lors d'une interview accordée au site MTV : la star reprendra bien le rôle de John Hartigan dans la préquelle-suite ! Le doute est enfin levé.
Le réalisateur revient également sur ce tournage un peu particulier. Pour l'instant, seule l'histoire qui sert d'introduction est en boîte. Reste encore trois autres segments à tourner. Avec son casting quatre étoiles, la production de Sin City s'apparente à un puzzle géant, avec des acteurs qui viennent quand ils le peuvent, pour tourner sur fond vert… Quitte à jouer dans le vent.
Comme nous le savions, Joseph Gordon-Levitt incarnera un joueur, qui va battre la mauvaise personne au mauvais moment. Résultat des courses, de vilaines choses lui arrivent ! Mon petit doigt me dit que Gordon-Levitt va sérieusement en baver… D'où le titre de cette histoire : The long bad night (La longue et mauvaise nuit). Enfin, l'actrice qui jouera Ava Lord n'a pas encore été choisie. Le cinéaste précise toutefois qu'il a plusieurs noms en tête. Vos idées de casting, c'est bien sûr dans les commentaires et sur le forum…
Sin City : A Dame to Kill For sort aux Etats-Unis le 4 octobre 2013, avec Jessica Alba (Nancy Callahan), Josh Brolin (Dwight), Mickey Rourke (Marv), Rosario Dawson (Gail), Dennis Haysbert (Manute), Jamie Chung (Miho), Joseph Gordon-Levitt (Johnny) et Jaime King (Goldie/Wendy).