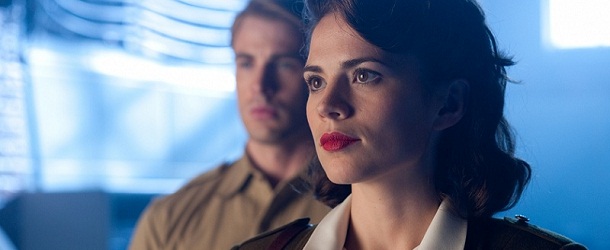 [Que ceux qui n'aiment pas Hayley Atwell se dénoncent immédiatement et soient excommuniés des Toiles Héroïques jusqu'à la sortie de Jurassic Park 3D !] Acte I : dans une interview au site The Age, l'interprète de Peggy Carter dans Captain America : The First Avenger – et bientôt dans Captain America : The Winter Soldier – déclare avoir tourné dans un mystérieux projet qui sera dévoilé lors du prochain Comic Con. Un projet qui montrera de quoi son personnage est réellement capable…
Acte II : Louis D'Esposito, co-président de Marvel Studios, confirme la rumeur. Il y aura bien un nouveau Marvel : One-Shot centré sur un personnage féminin fort. Le court métrage sera projeté cet été à San Diego et il est réalisé par D'Esposito lui-même. Le producteur avait déjà mis en scène le dernier court métrage Marvel Studios, Item 47, qui s'était retrouvé dans les bonus du DVD/Blu-ray de The Avengers. Peggy Carter reprendra donc prochainement son combat contre les forces de l'Axe. Un des futurs bonus du DVD/Blu-ray d'Iron Man 3, à n'en pas douter !
Captain America : Le Soldat de l'Hiver sort en France le 26 mars 2014 avec Chris Evans (Steve Rogers/Captain America), Sebastian Stan (Bucky Barnes/le Soldat de l'Hiver), Emily VanCamp (Sharon Carter/l'Agent 13), Scarlett Johansson (Natasha Romanoff/Black Widow), Anthony Mackie (Sam Wilson/le Faucon), Frank Grillo (Brock Rumlow/Crossbones), Samuel L. Jackson (Nick Fury), Robert Redford (Alexander Pierce) et Cobie Smulders (Maria Hill).