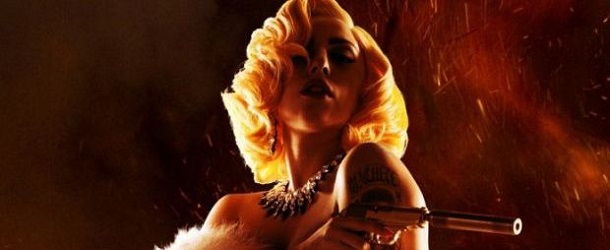 Ils ne se quittent plus. Après lui avoir offert son premier rôle au cinéma dans Machete Kills – certes, elle fait un caméo dans Men in Black III… mais elle n'est pas créditée – Robert Rodriguez retrouvera Lady Gaga dans Sin City : A Dame to Kill For. Rien de très consistant, juste un apparition, mais cela fera assurément couler beaucoup d'encre l'été prochain (rappelons que le film a été repoussé en août 2014). Et ça, la préquelle-suite en aura bien besoin !
C'est Joseph Gordon-Levitt qui a vendu la mèche, sur les ondes d'une radio américaine : « C'est une très bonne actrice. Et je ne le savais pas. Vous savez, elle vient et j'étais comme 'OK, d'accord, ils ont une énorme pop star pour faire une scène dans le film, je comprends', mais quand elle est arrivée, j'ai été scotché ! Elle avait abaissé son masque, elle était comme une grande pro et elle a fait un excellent travail. J'ai été vraiment impressionné. » Comme quoi, la blague de Bryan Singer le 1er avril dernier – Lady Gaga au casting du prochain X-Men dans le rôle de Dazzler – était de l'ordre du possible !
Sin City : A Dame to Kill For de Robert Rodriguez et Frank Miller sort aux Etats-Unis le 22 août 2014, avec Bruce Willis (Hartigan), Jessica Alba (Nancy Callahan), Eva Green (Ava Lord), Josh Brolin (Dwight), Mickey Rourke (Marv), Rosario Dawson (Gail), Dennis Haysbert (Manute), Jamie Chung (Miho), Joseph Gordon-Levitt (Johnny) et Jaime King (Goldie/Wendy).