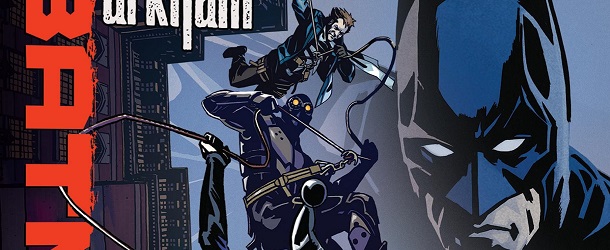 « Nom de Dieu, c'est Batman ! » Voici un nouvel extrait de Batman : Assaut sur Arkham, à douze jours de la sortie américaine du DVD/Blu-ray. Lors de la Comic-Con, Warner Bros. a fait le point sur les prochaines sorties DC Animation. Début 2015, Aquaman s'illustrera dans Justice League : Throne of Atlantis. Quelques mois plus tard, Son of Batman aura droit à une suite, Batman vs. Robin.
Enfin, dans un peu plus d'un an, nous découvrirons une histoire complètement inédite, Justice League : Gods and Monsters. Le film ne sera pas réalisé par la légende de l'animation Bruce Timm, contrairement a ce qui a été annoncé initialement. D'ici là, Batman : Assaut sur Arkham sortira dans nos bacs le 3 septembre prochain dans un chouette boîtier SteelBook (pré-commande) !
Batman : Assault on Arkham est réalisé par Jay Oliva et sort en France le 3 septembre 2014 (DVD/Blu-ray), avec Kevin Conroy (Bruce Wayne/Batman), Hynden Walch (Harley Quinn), Eliza Dushku (Killer Frost), Neal McDonough (Deadshot), Kevin Grevious (King Shark), James Patrick Stuart (Captain Boomerang), Matthew Gray Gubler (le Sphinx) et Troy Baker (le Joker).