L'Infirmière de Nuit n'est pas prête de fermer son cabinet… Le retour de Rosario Dawson dans la saison 2 de Daredevil est déjà annoncé. S'attacher les services d'une star plus d'une saison, c'est un joli coup. L'énorme succès critique de la série y est sans doute pour quelque chose ! Claire Temple continuera de soigner les blessures de Matt Murdock en 2016… et plus encore.
L'actrice a signé un contrat pour apparaître dans d'autres séries Marvel/Netflix. A.K.A. Jessica Jones, Luke Cage, Iron Fist et The Defenders sont potentiellement concernées. Deux liens pour conclure. Si ce n'est pas déjà lu, voici le compte rendu de notre Rencontre avec Charlie Cox et Steven S. DeKnight. Enfin, sachez qu'il y a une petite mise à jour visuelle dans l'article sur le renouvellement d'Agents of S.H.I.E.L.D. et d'Agent Carter…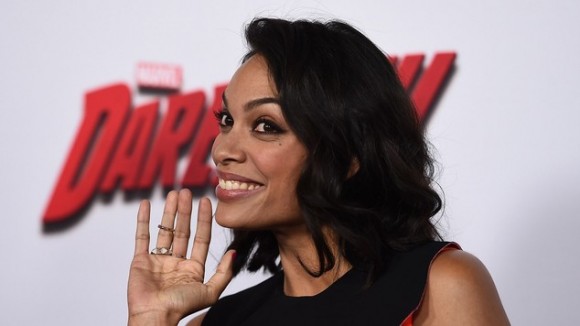 La série Daredevil a été mise en ligne le 10 avril 2015 sur Netflix (VF et VOST), avec Charlie Cox (Matt Murdock/Daredevil), Vincent D'Onofrio (Wilson Fisk/le Caïd), Deborah Ann Woll (Karen Page), Elden Henson (Foggy Nelson), Rosario Dawson (Claire Temple), Bob Gunton (Leland Owlsley), Scott Glenn (Stick), Ayelet Zurer (Vanessa Marianna), Vondie Curtis-Hall (Ben Urich) et Toby Leonard Moore (Wesley).