Après 'Un jour, un Transformer', 'Un jour, une Légende' ? C'est fort probable. Voici donc la nouvelle Vixen, incarnée par Maisie Richardson-Sellers (Star Wars : Le Réveil de la Force) ! Amaya Jiwe est la grand-mère de Mari McCabe (Megalyn Echikunwoke), la Vixen vue dans Arrow. Membre de la J.S.A., elle va vite intégrer l'équipage du Waverider… Sans transition, sachez que la saison 2 de Legends of Tomorrow comptera 13 épisodes, soit trois de moins que la saison 1 (et neuf de moins qu'Arrow, The Flash et Supergirl). Pourquoi ? Tout simplement parce que la chaîne The CW a été déçue par les audiences…
Après la défaite du vilain immortel Vandal Savage, une nouvelle menace se profile. Le Dr Nate Heywood, un historien peu conventionnel et charmant, est poussé à agir après avoir fait une découverte choquante – les Légendes sont dispersées à travers le temps. Nate doit alors trouver un moyen de sauver les héros et les voleurs de la saison un. Quand les Légendes rencontrent la J.S.A. dans les années 40, Amya Jiwe, alias Vixen, rejoint l'équipe. Tandis qu'ils se réunissent, une question se pose – quel est le sort de l'ancien capitaine Rip Hunter ?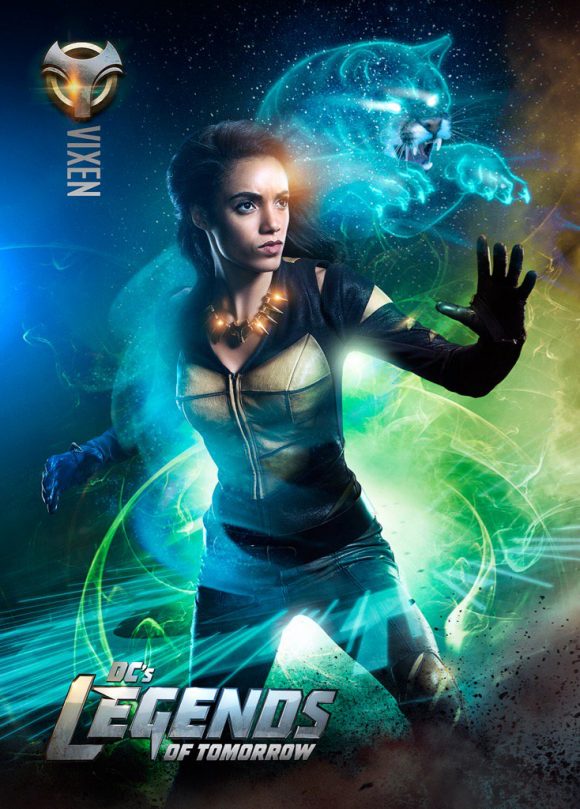 La série Legends of Tomorrow revient le jeudi 13 octobre 2016 sur la chaîne The CW, avec Brandon Routh (Ray Palmer/The Atom), Caity Lotz (Sara Lance/White Canary), Wentworth Miller (Leonard Snart/Captain Cold), Dominic Purcell (Mick Rory/Heat Wave), Franz Drameh (Jefferson 'Jax' Jackson/Firestorm), Victor Garber (Professeur Martin Stein) et Arthur Darvill (Rip Hunter).