On fait le point sur Black Lightning, la nouvelle série DC Comics qui sera diffusée à la mi-saison sur la chaîne The CW… Dans une interview accordée à Entertainment Weekly, l'interprète du super-héros électrique, Cress Williams, a révélé plusieurs informations intéressantes. Jefferson Pierce sera bel et bien un méta-humain. Il est même né avec ses super-pouvoirs. Au cours de ses aventures, Black Lightning affrontera The One Hundred, une organisation criminelle dirigée par Tobias Whale. Dans les comics, ce noir albinos est un peu le Caïd de la Distinguée Concurrence. Outre ses filles, Pierce aura pour allié Gambi, un ami d'enfance qui l'aidera avec son costume. Le show est avant tout décrit comme un « family drama » avec des super-pouvoirs. Enfin, un crossover avec l'Univers Télévisuel DC Comics n'est pas exclu une fois la série installée, mais comme le rappelle Williams, cela risque d'être compliqué d'un point de vue logistique, tournage à Atlanta oblige…
Jefferson Pierce est un homme qui lutte avec un secret. En tant que père de deux filles et principal d'un lycée privé sous contrat qui sert également de refuge pour les jeunes d'un quartier de la Nouvelle-Orléans submergé par la violence des gangs, il est un héros pour sa communauté. Neuf ans plus tôt, Pierce était un héros d'un genre différent. Doté du pouvoir surhumain d'exploiter et de contrôler l'électricité, il a utilisé ces pouvoirs pour garder sa ville natale en sécurité en devenant le justicier masqué Black Lightning. Presque une décennie plus tard, le combat de Pierce est depuis longtemps derrière lui… du moins, le pensait-il. Mais avec le crime et la corruption qui se répand comme une traînée de poudre et ceux qui lui sont proches à la croisée des chemins, Black Lightning revient – pour sauver non seulement sa famille, mais aussi l'âme de sa communauté.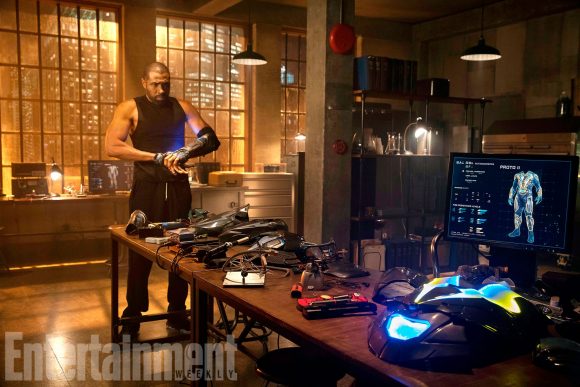 La Black Lightning sera diffusée à la mi-saison sur la chaîne The CW, avec Cress Williams (Jefferson Pierce/Black Lightning), Christine Adams (Lynn), Nafessa Williams (Anissa Pierce/Thunder) et China Anne McClain (Jennifer Pierce/Lightning).