Après le poster Comic-Con de The Punisher, le poster Comic-Con de The Defenders (via EntertainmentWeekly) ! Cette fois, point de Joe Quesada – le chef créatif de Marvel Entertainment a déjà signé le poster célébrant la fin du tournage -, mais un petit nouveau, Joshua James Shaw. Ce dernier n'est autre que le chef créatif de Marvel Television. Il a notamment travaillé sur Agents of S.H.I.E.L.D., Deadpool, X-Men : Days of Future Past et The Amazing Spider-Man.
Marvel's The Defenders suit les aventures de Daredevil, Jessica Jones, Luke Cage et Iron Fist, quatre super-héros ayant un objectif commun : sauver New York. Confrontés à leurs propres défis, ces loups solitaires décident d'unir leurs forces pour combattre le mal.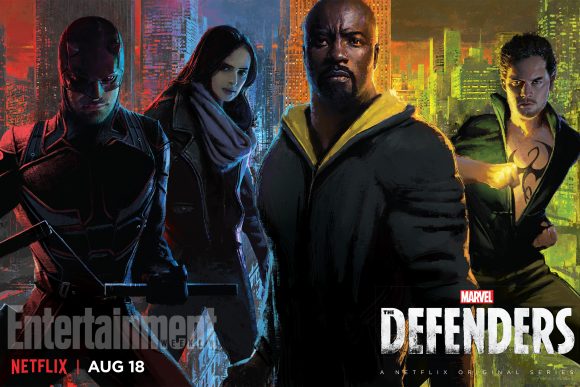 La série The Defenders sera mise en ligne le 18 août 2017 sur Netflix (VF et VOST), avec Charlie Cox (Matt Murdock/Daredevil), Krysten Ritter (Jessica Jones), Mike Colter (Luke Cage), Finn Jones (Daniel 'Danny' Rand/Iron Fist), Rosario Dawson (Claire Temple), Deborah Ann Woll (Karen Page), Elden Henson (Foggy Nelson), Elodie Yung (Elektra Natchios), Simone Missick (Misty Knight) et Sigourney Weaver (Alexandra).