Un long manteau noir, un crâne blanc tâché de sang, un fusil de précision… Voici le nouveau poster de The Punisher (via EntertainmentWeekly) ! Comme le veut la tradition, ce visuel est l'œuvre de Joe Quesada, le chef créatif de la Maison des Idées. Il sera distribué vendredi prochain sur le stand Marvel de la Comic-Con.
[=> The Defenders : Le poster de la Comic-Con ! <=]
Si le casting de la série sera bien présent pour signer ce poster, sachez qu'il n'y aura pas de panel The Punisher. Cependant, une petite apparition de Jon Bernthal est déjà annoncée lors du panel The Defenders (nuit de vendredi à samedi, 2h15-3h15). On peut raisonnablement supposer qu'il ne viendra pas seul…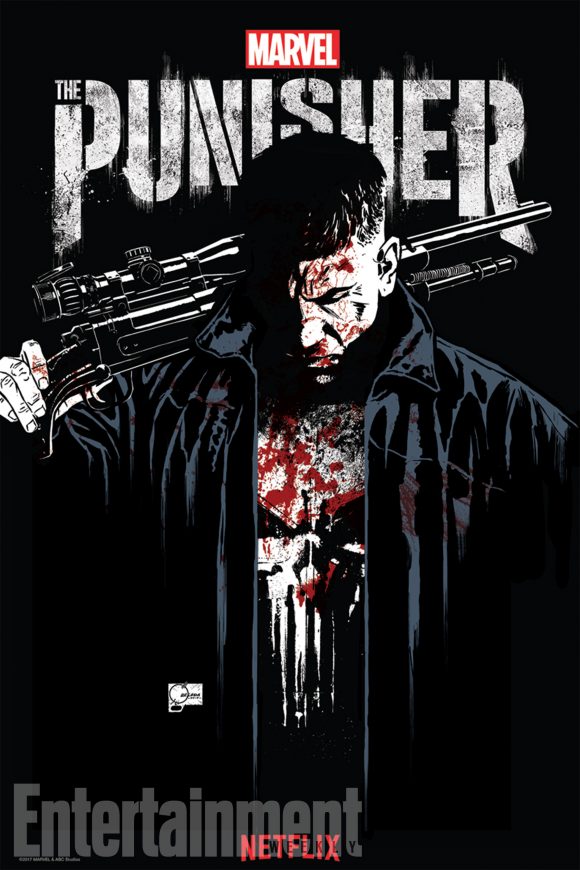 La série The Punisher sera mise en ligne en 2017 sur Netflix (VF et VOST), avec Jon Bernthal (Frank Castle/The Punisher), Ben Barnes (Billy Russo), Ebon Moss-Bachrach (Micro), Amber Rose Revah (Dinah Madani), Daniel Webber (Lewis Walcott), Jason R. Moore (Curtis Hoyle), Paul Schulze (Rawlins), Jaime Ray Newman (Sarah Lieberman) et Michael Nathanson (Sam Stein).