Renaissant, gonflé à bloc après quatre mois de vacances, courant dans la speed force avec son costume légèrement modifié… Voici Barry Allen sur le poster – très réussi – de la saison 4 de The Flash ! La chaîne The CW a visiblement choisi de dévoiler un nouveau visuel super-héroïque par semaine (voir le poster de Supergirl). Rendez-vous vendredi prochain pour celui d'Arrow ?
The Flash – Saison 4 – Episode 1 – 'The Flash Reborn' : Avec Barry dans la speed force, Iris, Kid Flash, Joe et Vibe reprennent le flambeau pour protéger Central City. Cependant, lorsqu'un puisant méchant blindé menace de raser la ville si The Flash ne se montre pas, Cisco prend une décision risquée pour faire sortir Barry de la speed force. Cependant, le Barry qui sort n'est pas le Barry qui est entré.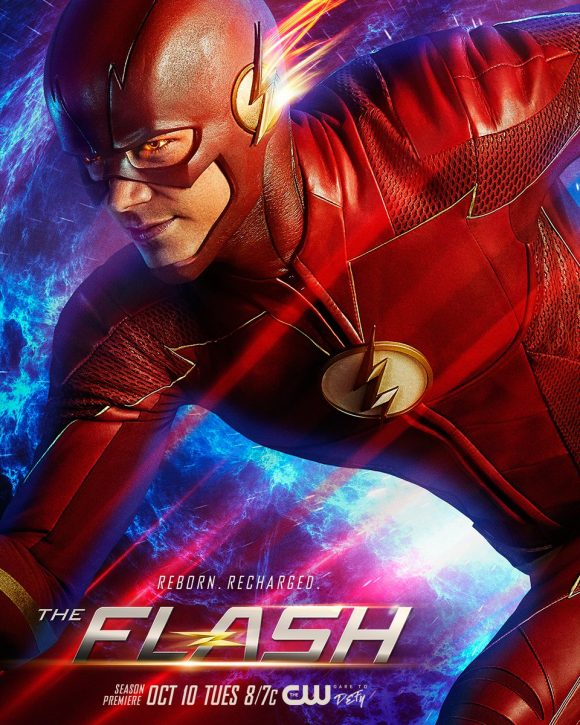 La série The Flash revient le 10 octobre 2017 sur la chaîne The CW, avec Grant Gustin (Barry Allen/The Flash), Candice Patton (Iris West), Carlos Valdes (Cisco Ramon/Vibe), Danielle Panabaker (Caitlin Snow/Killer Frost), Keiynan Lonsdale (Wally West/Kid Flash), Jesse L. Martin (Joe West), Tom Cavanagh (Harrison Wells) et Neil Sandilands (Clifford Devoe/The Thinker).