Raconter pour la première fois l'origin story d'une super-vilaine de A à Z, comment la gentille Samantha Arias est devenue Reign, telle est la mission que se sont donnés les scénaristes de Supergirl… La chaîne The CW a dévoilé cette nuit un premier aperçu de Reign. Budget oblige, Samantha reste humaine – à moins que ce ne soit pas sa forme définitive – et cela n'a pas grand chose à voir avec les comics ; mais il y a tout de même quelques discrets motifs qui rappellent le costume de la Planéticide. La production s'est appliquée, en imaginant une panoplie qui a du caractère, notamment au niveau du masque et de la pointe de sa chevelure. Quelqu'un sait comment cela s'appelle ?
Supergirl – Saison 3 – Episode 4 – 'The Faithful' : Kara enquête sur un nouveau groupe secret dont le chef, Thomas Coville, a une mystérieuse connexion avec Supergirl. Pendant ce temps, Samantha a l'impression de laisser tomber Ruby, et J'onn confesse un vieux secret.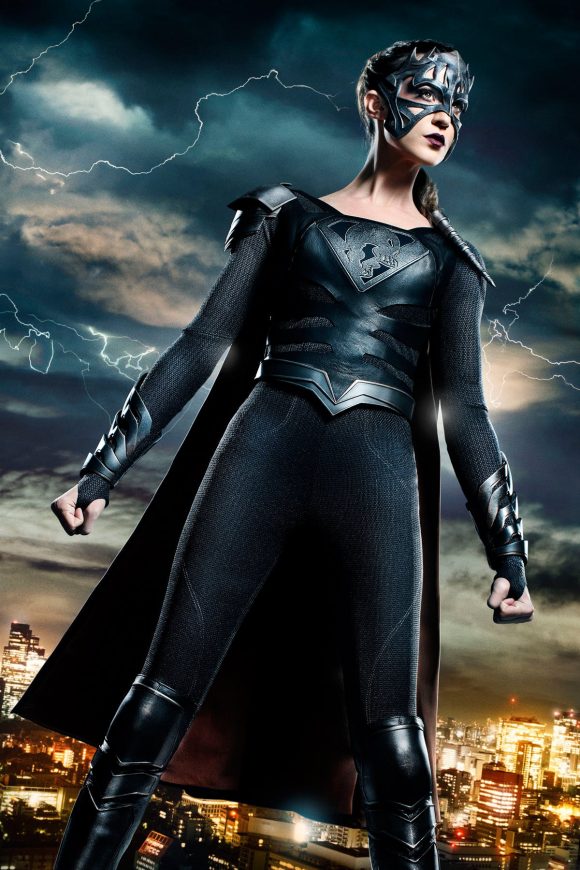 ————————————————–
Audience US : Supergirl toujours aussi stable… Hier soir, l'épisode 'The Faithful' a séduit 1.82 million de téléspectateurs (contre 1.76 million la semaine dernière). Un score proche de celui réalisé par le season premiere (1.87 million). Sur la cible préférée des annonceurs, les 18-49 ans, Kara Zor-El s'accroche à son taux de 0.5% (inchangé) [chiffres définitifs].
————————————————–
Supergirl – Saison 3 – Episode 5 – 'Damage' : Quand plusieurs enfants tombent malades suite à un empoisonnement au plomb, Morgan Edge pointe du doigt Lena et la blâme pour la création de la bombe au plomb fabriquée pour sauver National City des Daxamites. Bien que Lena sache qu'elle n'a jamais voulu faire de mal, elle craint qu'il y ait pu avoir une faille dans sa conception, ce qui la rendrait responsable. Kara fait équipe avec Samantha pour laver le nom de Lena, mais cela s'avère plus difficile que prévu. Pendant ce temps, Alex et Maggie prennent une décision cruciale quant à l'avenir de leur relation.
La série Supergirl est diffusée chaque lundi sur la chaîne The CW, avec Melissa Benoist (Kara Danvers/Supergirl), Chyler Leigh (Alex Danvers), Jeremy Jordan (Winslow 'Winn' Schott), Mehcad Brooks (James 'Jimmy' Olsen/Guardian), David Harewood (Hank Henshaw/Martian Manhunter), Chris Wood (Mon-El), Katie McGrath (Lena Luthor) et Odette Annable (Reign).