Le fait que Black Lightning ne fasse pas partie de l'Univers Télévisuel DC Comics a ses avantages. Un exemple tout bête. Quand Khalil Payne se retrouve paralysé, il reste en principe paralysé. Il n'y a pas de puce électronique miracle conçue par Felicity Smoak. On retrouve ainsi un certain sens du danger… Bref, le secret de Jefferson Pierce commence à voler en éclats. Comme dans Arrow, la moitié du casting connaîtra-t-il son identité secrète avant la fin de la saison ? PS : jetez un œil à la vidéo à 360°, c'est l'avenir (ou pas) !
Black Lightning – Saison 1 – Episode 6 – 'Three Sevens : The Book of Thunder' : Jefferson recherche l'assassin de son père, tandis qu'Anissa utilise ses nouveaux pouvoirs pour rectifier un tort après l'échec d'une protestation. Jennifer se débat avec des choix difficiles. Ailleurs, Gambi demande l'aide de Lynn.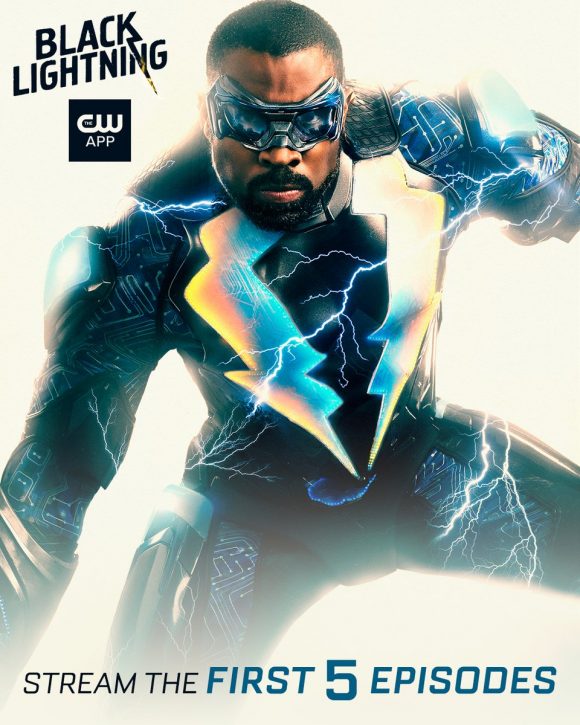 ————————————————–
Audience US : Troisième baisse consécutive pour Black Lightning… Hier soir, l'épisode 'Three Sevens : The Book of Thunder' a rassemblé 1.64 million de téléspectateurs (contre 1.81 million avant la pause). C'est la plus mauvaise audience de la série. Sur la cible des 18-49 ans, Jefferson Pierce échappe au bonnet d'âne avec un taux de 0.5% (inchangé) [chiffres définitifs].
————————————————–
Black Lightning – Saison 1 – Episode 7 – 'Equinox : The Book of Fate' : Black Lightning continue de rechercher Tobias. Anissa continue de chercher sa place dans sa nouvelle normalité.
La série Black Lightning est diffusée chaque mardi sur la chaîne The CW, avec Cress Williams (Jefferson Pierce/Black Lightning), Christine Adams (Lynn Pierce), Nafessa Williams (Anissa Pierce/Thunder), China Anne McClain (Jennifer Pierce/Lightning), James Remar (Peter Gambi), Damon Gupton (Inspecteur Henderson) et Chantal Thuy (Grace Choi).