Youpi, Anissa Pierce aura bientôt droit à un nouveau costume, made in Gambi ! Le pire, c'est que son proto-costume est plutôt fidèle aux comics, du temps où Thunder faisait partie des Outsiders. Une nouvelle preuve que tout n'est pas forcément adaptable ! Black Lightning a de la chance. Outre un super-tailleur professionnel, il dispose d'une technologie d'entraînement supérieure à celle de Green Arrow. Comme quoi, être proviseur aux Etats-Unis, ça rapporte. Qu'avez-vous pensé de cet épisode, qui marque le début de la seconde moitié de la saison ?
Black Lightning – Saison 1 – Episode 7 – 'Equinox : The Book of Fate' : Black Lightning continue de rechercher Tobias. Anissa continue de chercher sa place dans sa nouvelle normalité.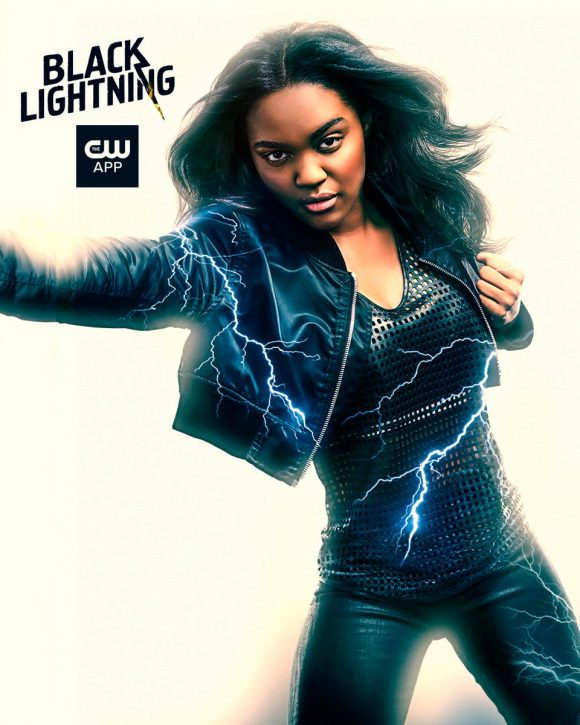 ————————————————–
Audience US : La stabilisation attendra… Hier soir, l'épisode 'Equinox: The Book of Fate' a rassemblé 1.46 million de téléspectateurs (contre 1.64 million la semaine dernière). Outre le fait qu'il s'agit de la plus mauvaise audience de la série, c'est la quatrième chute consécutive. Sur la cible des 18-49 ans, la famille Pierce reste abonnée à un taux de 0.5% (inchangé) [chiffres définitifs].
————————————————–
Black Lightning – Saison 1 – Episode 8 – 'Revelations' : Black Lightning travaille avec Anissa pour trouver des informations qui laveront son nom. Jennifer commence son internat avec Lynn. Pendant ce temps, Gambi se retrouve dans une situation précaire.
La série Black Lightning est diffusée chaque mardi sur la chaîne The CW, avec Cress Williams (Jefferson Pierce/Black Lightning), Christine Adams (Lynn Pierce), Nafessa Williams (Anissa Pierce/Thunder), China Anne McClain (Jennifer Pierce/Lightning), James Remar (Peter Gambi), Damon Gupton (Inspecteur Henderson) et Chantal Thuy (Grace Choi).