Cicada en grand méchant, une nouvelle équipe de Rogues et une possible alliance entre Grodd et King Shark… A deux mois du début de la saison 5, les ennemis font déjà la queue pour s'en prendre à The Flash ! Et nous pouvons maintenant ajouter Spin : « Spencer Young est une jeune aspirante influenceuse sur les réseaux sociaux, qui saisit l'opportunité de se faire connaître quand elle découvre qu'il y a un nouveau héros à Central City. » Ce personnage aura les traits de Kiana Madeira (Sacred Lies, Wynonna Earp) et sera introduit dans l'épisode 4. Il s'agit d'un rôle récurrent. Dans les comics, Spin est un homme qui porte un écran de télévision en guise de casque. Ce casque lui permet d'exploiter les super-pouvoirs d'Edwar Martinez, un méta-humain capable de transformer les peurs individuelles et collectives en réalité. Nul doute que la série simplifiera tout ça…
Égaler l'intelligence du Thinker, qui à la fin de la saison avait exploité les pouvoirs des douze métas du bus, a poussé la Team Flash dans ses ultimes retranchements, mais avec l'aide de nouveaux alliés, Barry Allen (alias The Flash) et compagnie ont été capables d'arrêter l'Illumination, sauvant Central City une nouvelle fois. Cependant, avec l'arrivée de la fille speedster de Barry et Iris, Nora, qui débarque du futur en admettant avoir fait une 'grosse erreur', la situation est loin d'avoir atteint le statu quo. La parentalité sera-t-elle le défi qui ralentira finalement The Flash ?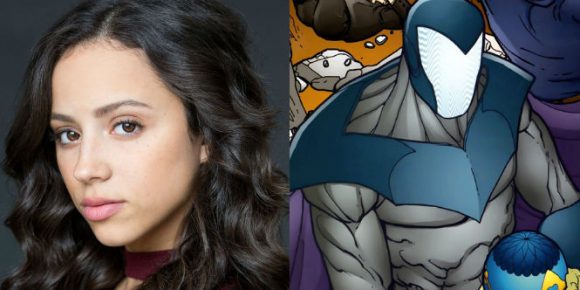 La série The Flash revient le 9 octobre 2019 sur la chaîne The CW, avec Grant Gustin (Barry Allen/The Flash), Candice Patton (Iris West), Carlos Valdes (Cisco Ramon/Vibe), Danielle Panabaker (Caitlin Snow/Killer Frost), Jesse L. Martin (Joe West), Tom Cavanagh (Harrison Wells), Hartley Sawyer (Ralph Dibny/Elongated Man) et Jessica Parker Kennedy (Nora West-Allen).