Autant prévenir tout de suite, la bande annonce de la saison 3 de Black Lightning n'est en réalité qu'un montage de cinq minutes qui récapitule les principaux événements de la série. Ce sont des choses qui arrivent, puisque les tournages super-héroïques reprennent souvent quelques jours avant le début de la Comic-Con. Cress Williams, l'interprète de Jeffersen Pierce, a répondu à LA question que tout le monde se pose à l'approche du méga-crossover 'Crisis on Infinite Earths' : Black Lightning rejoindra-t-elle officiellement l'Arrowverse ? Réponse : « J'ai entendu pas mal de discussions, rien de plus officiel. Mais à ce stade, je peux dire que je ne serais pas surpris. » En langage clair, cela veut dire oui ! Un discours étonnement honnête de la part d'un acteur, sur une question si 'sensible'. A part ça, pas d'annonce particulière concernant le casting. Tous les protagonistes dans la guerre markovienne pour le contrôle des méta-humains sont déjà en place…
Ensemble, la famille Pierce fait face aux défis d'une communauté urbaine sur le déclin, y compris un gang menaçant qui s'appelle lui-même The 100 et son infâme gangster, Tobias Whale. Pire, Freeland a été minée par des expériences subventionnées par le gouvernement et par un trafic de drogue qui ont créé des méta-humains et des toxicomanes, tout en faisant de Freeland la cible d'une dangereuse puissance étrangère, la Markovie. Heureusement, la famille a des alliés dans son combat, le père de substitution de Jefferson et ancien super-espion sous couverture, Peter Gambi, ainsi que l'ami et voisin de Jefferson, l'engagé et scrupuleusement honnête chef de la police, Henderson.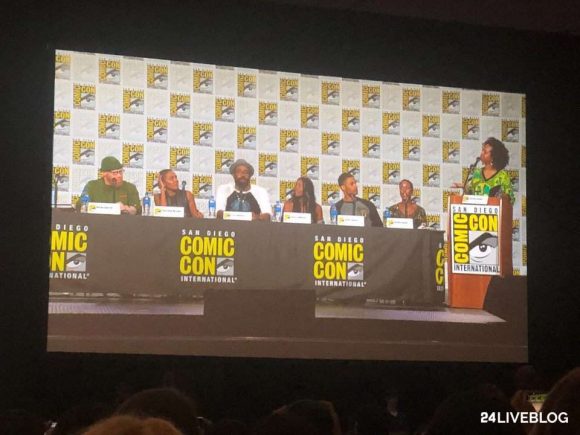 La série Black Lightning revient le 21 octobre 2019 sur la chaîne The CW, avec Cress Williams (Jefferson Pierce/Black Lightning), Christine Adams (Lynn Stewart), Nafessa Williams (Anissa Pierce/Thunder), China Anne McClain (Jennifer Pierce/Lightning), James Remar (Peter Gambi), Damon Gupton (William Henderson), Marvin 'Krondon' Jones III (Tobias Whale) et Jordan Calloway (Khalil Payne/Painkiller).