Où l'on se souvient que Michael Chiklis a incarné un Executioner impressionnant dans Gotham. Cette semaine, un début de routine s'installe, avec Alice qui laisse place à un monstre de la semaine… mais la vraie menace réside sans doute dans cette tradition de l'Arrowverse, qui consiste à multiplier les personnages au courant de l'identité secrète du super-héros-titre. Il faut dire que Kate Kane n'est pas très subtile en s'habillant avec une capuche aussi rouge que la perruque de la bat-héroïne ! Sophie Moore va-t-elle rapporter tout ce qu'elle sait à Jacob Kane ? Jusqu'où ira la crise de jalousie de Mouse ? Et surtout, qu'avez-vous pensé de cet épisode ? PS : Ruby Rose est vraiment classe quand elle porte le super-costume sans le masque !
Batwoman – Saison 1 – Episode 6 – 'I'll Be Judge, I'll Be Jury' : Une mort dérangeante secoue Gotham et la ville cherche son nouveau héros. Luke se confie à Kate, tandis que Sophie demande à Jacob une affectation spéciale. Alice poursuit son complot néfaste contre les Kane, avec Catherine servant de fil conducteur à une partie de son plan. Batwoman rend une autre visite à Mary.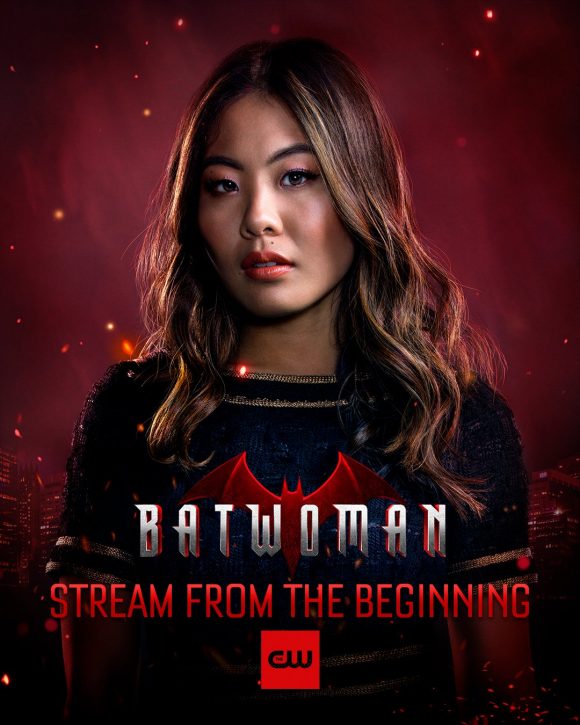 ————————————————–
Audience US (chiffres définitifs) : Il serait temps d'activer le bat-parachute… Hier soir, l'épisode 'I'll Be Judge, I'll Be Jury' a été suivi par 1.09 million de téléspectateurs (contre 1.16 million la semaine dernière). C'est donc la plus mauvaise audience de la courte histoire de la série. Sur la cible des 18-49 ans, Kate Kane s'accroche toujours à un taux de 0.3% (inchangé).
————————————————–
Batwoman – Saison 1 – Episode 7 – 'Tell Me the Truth' : Kate et Sophie doivent se réconcilier avec leur passé alors que Kate se demande à quel point elle peut faire confiance à son ancienne amante. Kate et Luke rencontrent un vieil ami. Mary se débat avec le destin de la famille Kane alors que Catherine demande de l'aide à Jacob. Alice et une nouvelle cohorte se lancent dans un autre plan néfaste, dont les motivations sont plus importantes qu'elles n'y paraissent.
La série Batwoman est diffusée chaque dimanche sur la chaîne CW, avec Ruby Rose (Kate Kane/Batwoman), Meagan Tandy (Sophie Moore), Nicole Kang (Mary Hamilton), Camrus Johnson (Luke Fox), Dougray Scott (Jacob Kane), Elizabeth Anweis (Catherine Hamilton-Kane) et Rachel Skarsten (Elizabeth Kane/Red Alice).