Allez, on termine cette belle séquence Arrowverse avec… le poster de la saison 5 de Legends of Tomorrow ! Le multiverse a beau être sans dessus dessous, il y a des choses qui ne changent pas : l'équipage du Waverider sera toujours là pour nous faire rire. On retrouve donc Sara, Ray, Mick, John, Nate, Charlie, Zari, Ava et Nora dans leurs plus beaux atours des saisons passées. Niveau nouveauté, on repassera ; mais du coup, les surprises n'en seront que plus grandes dès mardi prochain !
Legends of Tomorrow – Saison 5 – Episode 1 – 'Meet the Legends' : Sara, Ray et Mick sont choqués de découvrir que les Legends sont devenues célèbres. Il semble que tout le monde, à l'exception de Sara, apprécie les projecteurs, à tel point qu'ils invitent une équipe de documentaristes à bord du Waverider pour les filmer, alors qu'ils sont en train d'enquêter sur un étrange nouveau bug dans la chronologie. Les Legends découvrent que leur nouveau problème n'est autre que Raspoutine, qui vient tout droit de l'enfer, et cela pourrait s'avérer plus grave que prévu. Pendant ce temps, Constantine pense qu'il connaît la raison de ces nouveaux bugs et informe l'équipe qu'il ne sera pas facile de les vaincre.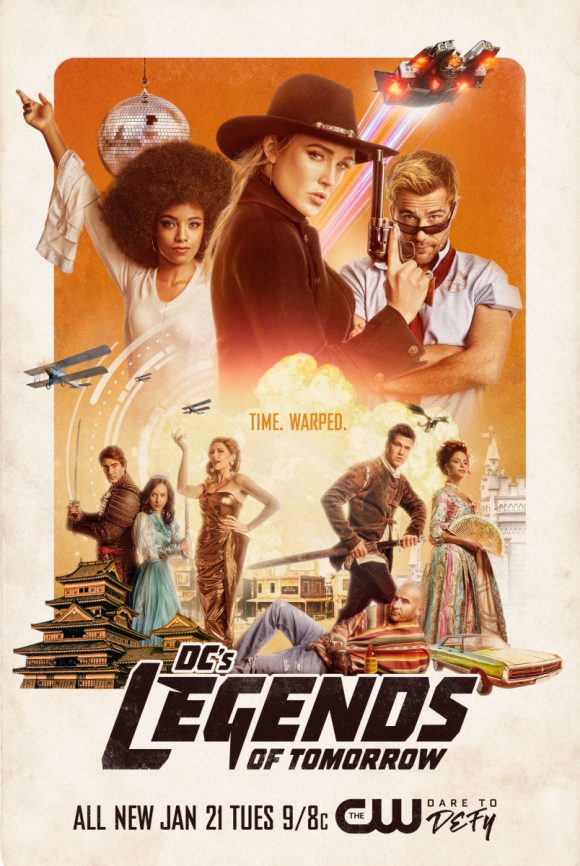 La série Legends of Tomorrow est diffusée chaque mardi sur la chaîne The CW, avec Caity Lotz (Sara Lance/White Canary), Brandon Routh (Ray Palmer/The Atom), Dominic Purcell (Mick Rory/Heat Wave), Nick Zano (Nate Heywood/Citizen Steel), Maisie Richardson-Sellers (Charlie), Tala Ashe (Zari Tomaz), Matt Ryan (John Constantine) et Jes Macallan (Ava Sharpe).