Et maintenant, que vais-je faire ? Après 15 saisons de Supernatural, Jensen Ackles (Smallville, Dark Angel) vient de révéler où nous le retrouverons l'année prochaine. Et ce sera dans… la saison 3 de The Boys, dont le tournage devrait débuter en janvier ! Ackles incarnera Soldier Boy, la première célébrité super-héroïque de l'histoire des Etats-Unis qui, comme son look l'indique, est une parodie de Captain America. Ce n'est que justice pour celui qui était en lice pour incarner Steve Rogers, même si on regrettera de le voir encore 'bloqué' sur le petit écran, alors qu'il est taillé pour jouer un super-héros au cinéma. On remarquera enfin que l'interprète de Dean Winchester retrouvera Eric Kripke, le showrunner de The Boys, qui n'est autre que… le créateur de Supernatural ! Tout est lié.
The Boys est une variation irrévérencieuse sur des super-héros, aussi connus que des vedettes, aussi influents que des politiciens et aussi révérés que des dieux, qui abusent de leurs super-pouvoirs au lieu de faire le bien. Les sans pouvoir affrontent les surpuissants dans The Boys, qui nous entraîne dans une quête héroïque pour dévoiler la vérité sur les Sept et le redoutable soutien de Vought.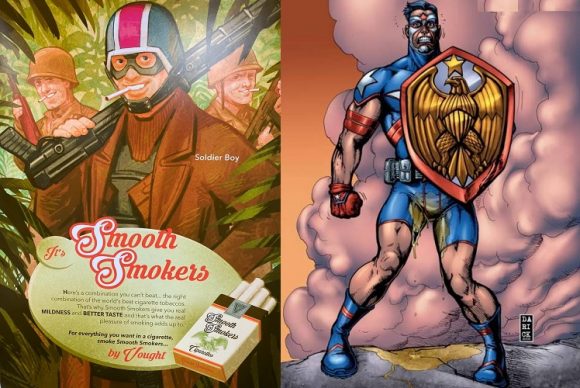 La série The Boys revient le 4 septembre 2020 sur Amazon Prime Video, avec Karl Urban (Billy Butcher), Jack Quaid (Hugh 'Hughie' Campbell), Laz Alonso (Marvin/Mother's Milk), Tomer Capon (Frenchie), Karen Fukuhara (Kimiko/The Female), Anthony Starr (John/Homelander), Dominique McElligott (Queen Maeve), Jessie T. Usher (A-Train), Erin Moriarty (Annie January/Starlight), Chace Crawford (Kevin/The Deep) et Nathan Mitchell (Black Noir).