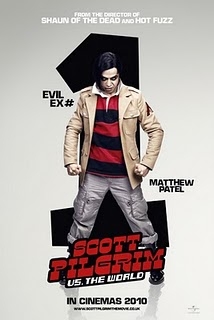 La grande blague du jour :
la sortie du film Scott Pilgrim vs. the World est encore repoussée
! Game over ! Du grand n'importe quoi pour un film qui buzz et dont la cible principale est les jeunes… c'est à dire ceux qui téléchargent ! Nous ne découvrirons donc pas le film cet été, comme les américains (13 août), ni même le 13 octobre comme il était annoncé depuis des semaines,
il faudra attendre le 1er décembre
! Du grand délire de la part du distributeur ! Pour patienter,
une nouvelle featurette/documentaire
présentant la vie délirante du héros Scott Pilgrim… Mais face à presque
5 mois d'attente
, c'est bien maigre ! Pour rappel, le film raconte l'histoire de Scott Pilgrim (
Michael Cera
), un jeune homme, qui fait la rencontre de Ramona Flowers (
Mary Elizabeth Winstead
), la fille de ses rêves, et qui va devoir combattre les 7 ex-petits amis de celle-ci pour pouvoir conquérir son cœur… Le tout est signé
Edgar Wright
, à qui l'on doit
Shaun of the Dead
et
Hot Fuzz
.