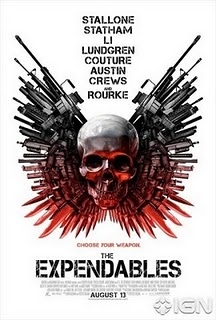 Un peu d'humour aujourd'hui avec le film
The Expendables
… La vidéo du jour n'est pas vraiment officielle, mais elle est tellement géniale qu'elle le devrait ! Le 13 août sur les écrans US,
Sylvester Stallone, Terry Crews, Randy Couture, Eric Roberts, Mickey Rourke, Jet Li et Jason Statham seront face à… Julia Roberts
, dans une comédie romantique,
Eat, Pray, Love
. Un combat titanesque. La vidéo ci-dessous est
un appel vibrant à tous les hommes
, un appel à la victoire de la testostérone face à la mainmise des filles sur le cinéma US (
Sex and the City, Twilight
, toutes les comédies romantiques qui cartonnent…). En espérant que cet appel soit entendu, et que la victoire de
The Expendables
soit éclatante !
Si vous ne voyez pas The Expendables, si le film de Julia Roberts remporte la victoire, vous ne méritez d'être un homme !
Comme on dirait chez les Spartiates : « Ahouu, ahouuu ! ».
AUGUST 13TH YOU WILL SEE THIS MOVIE NOT OFF YOUR TORRENTS IN A F*CKING THEATER WHERE VIOLENCE BELONGS IF WE DON'T ? IF THIS LOSES TO EAT, PRAY, LOVE ? YOU DON'T DESERVE TO BE A MAN