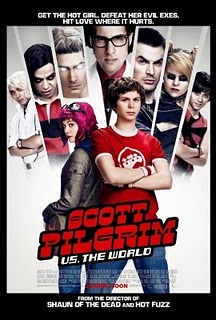 Un vrai de vrai, pas juste un poster teaser. Sur cette nouvelle affiche de
Scott Pilgrim vs. the World,
tout le monde est présent, de Scott à Ramona, en passant par les ex maléfiques ! C'est l'occasion de maudire la date de sortie française…
le 20 octobre
, alors que le film sort le 13 août aux Etats-Unis. Une sortie deux mois plus tard, à l'heure d'internet, avec pour public cible des jeunes, je dis « bravo », c'est
un trait de génie de la part des studios
! Et après, on vient se plaindre
du téléchargement illégal… Pour rappel, le film raconte l'histoire de Scott Pilgrim, un jeune homme, qui fait la rencontre de Ramona Flowers, la fille de ses rêves, et qui va devoir combattre les 7 ex-petits amis de celle-ci pour pouvoir conquérir son cœur… Le tout est signé Edgar Wright, à qui l'on doit Shaun of the Dead et Hot Fuzz.