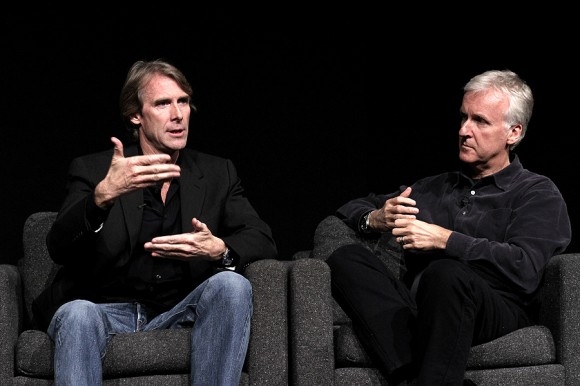 Je passe rapidement sur le
nouvel extrait du film
: le major Lennox (Josh Duhamel) dans ses œuvres, préparant ses troupes à sauter au-dessus de la ville de Chicago, qui est envahie par une armée de Decepticons. Une journée ordinaire.
Transformers 3 -Dark of the Moon/La Face cachée de la Lune
était à la fête hier, avec un événement organisé par la
Paramount
qui avait pour thème la 3D du film. Un combo de rêve était là pour assurer la promotion devant un parterre de journalistes :
le réalisateur Michael Bay et son collègue James « 

Je suis le maître du monde.

 » Cameron, spécialiste
ès 3D
. Du très lourd, avec pour amuse-gueule la projection d'une dizaine de minutes du film, dont la séquence d'ouverture :
une série de flash-back, avec Optimus Prime narrant la guerre sur Cybertron, puis un détour par les années 60 et le programme lunaire…
[Fin du spoiler.]
Le plus intéressant reste la discussion autour du relief. L'ajout de la 3D aurait coûté 30 millions ; 30% relève de la post-conversion, 70% de l'utilisation de caméras spéciales, mais d'après Cameron la différence est indiscernable ; Michael Bay a été obligé d'adapter sa façon de filmer, en tournant moins rapidement, avec une réalisation plus posée, ce qui se traduirait à l'écran, selon les échos, par des scènes d'action plus lisibles. J'ai toujours trouvé aberrant de dire « Je n'arrive pas à suivre les Transformers, ça va trop vite, on ne comprend pas l'action. », mais apparemment, c'est le cas d'une partie du public (ou seulement des critiques ?). L'équipe qui travaille sur la 3D de Transformers est la même que celle d'Avatar, d'où la présence de Cameron : l'opus final de la trilogie est donc entre de bonnes mains, et les réactions sont enthousiastes. Oui, avec Transformers 3, écrire les mots « enthousiasme » et « 3D » dans la même phrase, c'est possible !