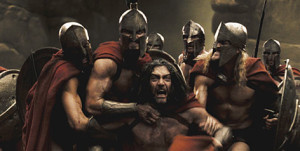 [Souvenir, souvenir. Le 21 mars 2007, la petite bombe 300 déboulait sur les écrans français. J'y étais dès le premier jour, à la séance de 17 heures, à l'UGC Montparnasse… Cinq ans déjà !]
Aujourd'hui, la Warner a mis à jour son calendrier 2013. Après les dernières annonces de casting, il ne manquait plus que la date de sortie. Aux Etats-Unis, les Athéniens affronteront les Perses dans 300 – Battle of Artemisia à partir du 2 août 2013. Je pourrais vous lâcher la date comme ça sans rien vous dire de plus, mais ce n'est pas mon genre ! Le film sortira ainsi le même jour que Les Schtroumpfs 2. Rien à craindre de ce côté là. En revanche, est programmé pour la même date Red 2, la suite des aventures de Bruce Willis et de ses copains retraités de la CIA. Trois suites le même jour, trois films issus de comics/BD… C'est un peu beaucoup, et il y a fort à parier que la date de Red 2 change prochainement pour ne pas se faire écrabouiller par une armée d'Athéniens en furie.
Car hormis le reboot de Robocop la semaine suivante (concurrence modeste), le mois d'août est désespérément vide. Là où cela devient intéressant, c'est que la semaine du 26 juillet est occupée par… The Wolverine. La Fox et le mutant trapu doivent faire la tête, car le film aura  donc  300 – Battle of Artemisia en seconde semaine. Il me parait également fort probable que la sortie de The Wolverine soit avancée d'une semaine, au 19 juillet, où il n'y « que » la ressortie 3D de Jurassic Park.
Un autre changement de date nous concerne indirectement. Pacific Rim, le projet de Guillermo del Toro avec des robots et des monstres, déménage. Fixé au 10 mai 2013, le film est repoussé au 12 juillet (soit neuf jours après Robopocalypse, l'autre film de robots de Spielberg…). Un déménagement salutaire pour Iron Man 3, qui sort le 3 mai 2013. Pour le moment, Tony Stark a donc la voie dégagée jusqu'au 17 mai, date de sortie de Star Trek 2. J'espère que je ne vous ai pas embrouillé ! Capture d'écran du site Box Office Mojo pour aider les trois du fond qui se sont perdus en route.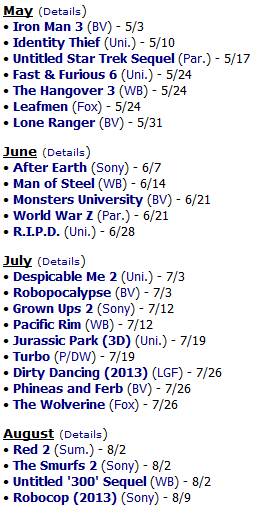 300 – Battle of Artemisia de Noam Murro (Smart People) sort le 2 août 2013 avec Sullivan Stapleton (Général Thémistocle), Eva Green (Artémisia), Jamie Blackley (Calisto) et Rodrigo Santoro (Xerxès).