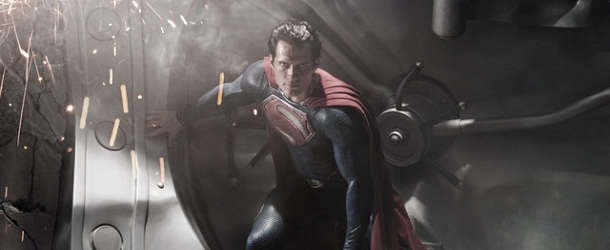 C'est officiel, le teaser de Superman – Man of Steel durera 1 minute 27 secondes ! Comme annoncé depuis des lustres, les premières images du reboot réalisé par Zack Snyder seront diffusées avant les séances de The Dark Knight Rises aux États-Unis. En parallèle, AlloCiné croit savoir que cette bande annonce ne sera visible que dans les salles obscures (également en France) et non sur internet, à la demande expresse de Christopher Nolan qui souhaiterait ainsi privilégier les fans. Mouais.
Et d'un, ces informations sont introuvables sur les sites américains (une exclusivité mondiale d'AlloCiné ?). Et de deux, si « les images ne seront pas diffusées sur le net dans la foulée », il suffira sans doute d'attendre deux ou trois jours pour les retrouver sur la toile, car on imagine mal la Warner se retenir indéfiniment de les poster ! Le studio avait d'ailleurs procédé de la même manière en 2011, lors de la diffusion du premier teaser de The Dark Knight Rises. En quelques heures à peine, plusieurs versions bootleg circulaient de façon incontrôlable… L'histoire de « Nolan a dit » est belle, mais il s'agit probablement d'une décision purement marketing visant à faire monter le buzz.
Et de trois (car il faut toujours un petit trois), une bande annonce en diffusion mondiale, quasi-simultanément aux États-Unis (20 juillet) et en France (25 juillet) ? Ce serait très beau, mais c'est malheureusement bien rare ! Je ne demande qu'à y croire, car découvrir le teaser du nouveau Superman sur grand écran, c'est le bonheur assuré. Sauf bien sûr s'il n'y a qu'un logo et une voix-off ! Quoi qu'il en soit, J-8…
Superman – Man of Steel sort le 14 juin 2013 (date de sortie américaine) avec Henry Cavill (Clark Kent/Superman), Amy Adams (Lois Lane), Diane Lane (Martha Kent), Kevin Costner (Jonathan Kent), Laurence Fishburne (Perry White), Michael Shannon (Général Zod), Russell Crowe (Jor-El), Ayelet Zurer (Lara), Antje Traue (Faora), Harry Lennix (Général Swanwick) et Christopher Meloni (Colonel Hardy).