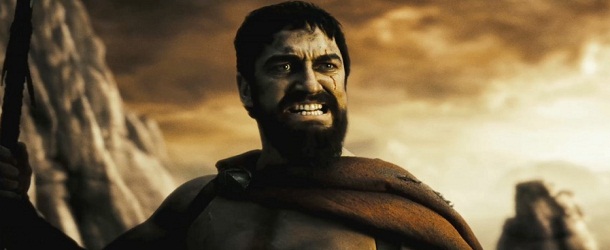 Gerard Butler a définitivement abandonné les sandales et le bouclier… Son retour le temps d'un caméo dans 300 – Battle of Artemisia semblait pourtant parfaitement engagé : une apparition du roi Léonidas était en effet prévue dans le graphic novel de Frank Miller, et les producteurs annonçaient qu'il avait « une petite part » à jouer dans le film. Sauf que le principal intéressé a dit non. Voici ce que déclare l'acteur, dans les colonnes du site MTV :  « Oh, oui, je ne vais pas le faire. Ils filment en ce moment. Je leur souhaite le meilleur, mais ça ne fonctionne pas. Ce n'était pas vraiment mon truc. »
Rassurant n'est-ce pas ? Butler refuse donc de retrouver l'univers qui l'a rendu mondialement célèbre en l'espace d'une réplique (« This is Spartaaaaaaa ! »). Maintenant que le roi a dit non, il faudra se tourner vers sa reine, Gorgo, interprétée par Lena Headey, puisqu'elle a elle aussi un petit rôle à jouer dans l'histoire. On souhaite bonne chance au réalisateur Noam Murro et à son casting composé d'inconnus ! Et si nous pouvions avoir des nouvelles de la publication du graphic novel, ce serait également une bonne chose !
300 – Battle of Artemisia de Noam Murro sort le 2 août 2013 aux Etats-Unis, avec Sullivan Stapleton (Général Thémistocle), Eva Green (Artémisia), Jack O'Connell (Calisto), Callan Mulvey (Scyllias) et Rodrigo Santoro (Xerxès).